Bigakko: Anti-Academy – Talk by Alice Maude-Roxby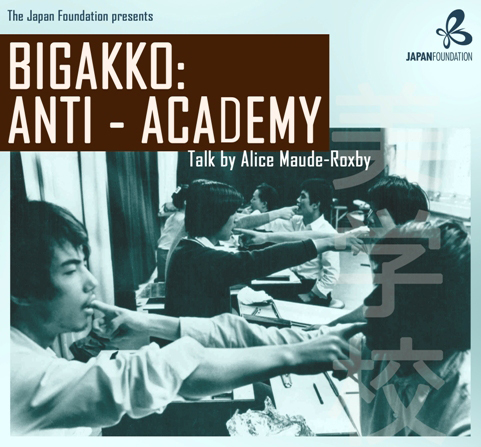 The alternative art school Bigakko was established in 1969 in the Jimbocho district of Tokyo by the publishers Gendaishicho-sha. Involving some of the most radical artists of the time and developed in opposition to the mainstream academy system, students at Bigakko experienced unorthodox teaching and workshops by Genpei Akasegawa, Natsuyuki Nakanishi, Hiroshi Nakamura and Mokuma Kikuhata, and the programme involved diverse approaches, ranging from vociferous political conferences to quiet meditation.
In this talk, Alice Maude-Roxby, Head of Photography at Falmouth University, will provide an overview of the activities of Bigakko students and artists, and its impact and influence upon the contemporary visual art world. Reflecting on the recent exhibition Anti-Academy at the John Hansard Gallery for which Maude-Roxby was the curator, she will analyse the activities of Bigakko within the context of the comparative unorthodox art education models in Iowa, USA and Copenhagen, Denmark while raising questions in consideration of contemporary development of fine art education in UK.
Date: 5 December 2014 from 6.30pm
Venue: The Japan Foundation, London