Bite-sized Bunraku: A Little Flavour of Japanese Traditional Puppetry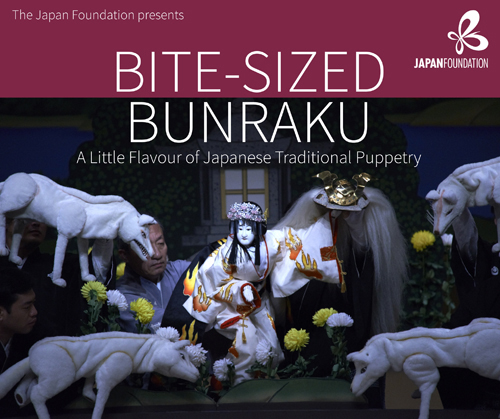 Bunraku is widely thought to be the most sophisticated form of puppetry in the world. Originating in the 17th century in Osaka Japan, the complex performance involves the very delicate and intricate movement of puppets exacted by skilled puppeteers, beside the live music of the shamisen-kata (shamisen player), and overseen by the tayu (narrator), who recites the parts of distinct multiple characters. This classical tradition is one of Japan's main traditional performing art forms alongside Kabuki and Noh, and was designated a UNESCO Intangible Cultural Heritage in 2003.
Due to the refined arrangement and complex staging of this serious art form, Bunraku is rarely performed in full outside Japan, nonetheless The Japan Foundation has invited Kanjuro Kiritake III, one of the most revered modern Bunraku puppeteers, and a select few professionals from Japan's Bunraku world performers to present the performance skills that they have spent a lifetime acquiring.
Including two excerpts of well-known Bunraku titles "Hadesugata Onna Maiginu : Sakaya no dan 'Osono'" and "Honcho Nijushiko : Okuniwa Kitsunebi no dan", this event will also featuring a complementary talk explaining the three roles in Bunraku plays to give attendees a delicious flavour of this high-level stage art with exquisite dolls.
Date: 7 March 2016 from 7.00pm
Venue: Sadler's Wells Theatre, Lilian Baylis Studio, Rosebery Ave, London EC1R 4TN