Book Launch and Talk by Dorothy Britton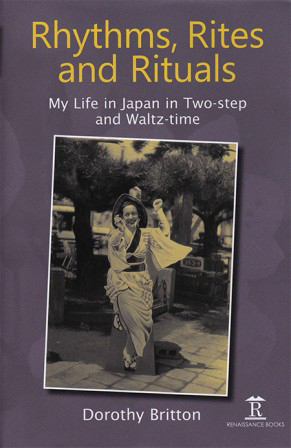 To mark the publication of Dorothy Britton's Rhythms, Rites and Rituals: my life in Japan in two-step and waltz time, the Japan Society is holding a special book launch with a talk by the author. Sir David Warren, the Japan Society Chairman, will chair the event and will also speak about Dorothy's life, achievements and her contributions to Anglo-Japanese understanding.
Having survived the Great Kanto Earthquake of 1923, when she was 16 months old, Dorothy Britton went on to lead a life of extraordinary variety, working as a composer, musician, writer, poet, radio and television presenter, postal censor and translator. Bilingual from birth, she found the immense joy of blending in with people of different cultures, and this is the remarkable and remarkably frank story of a life lived to the full by the doyenne of British residents in Japan.
Amusing episodes and stories of fascinating people and relationships abound in the book, as do valuable insights into topics such as the post-war Occupation and its impact on everyday life, the role of women, learning Japanese, marriage customs, food and many other aspects of Japanese culture and society. Dorothy was appointed a Member of the Order of the British Empire (MBE) in 2010 for her highly regarded contributions to bridging two cultures, and this long awaited memoir will be widely welcomed.
Rhythms, Rites and Rituals: my life in Japan in two-step and waltz-time is published by Renaissance Books.
Dorothy Britton (Lady Bouchier, MBE) was born in Japan and educated in Britain and the USA. A pupil of Darius Milhaud, she is known for her popular Capitol Records album Japanese Sketches, hailed by the American Record Guide as a highly successful 'translation of the koto / samisen [sic] aesthetic into occidental terms'. She was later commissioned to write a musical for a leading traditional dance troupe.
Dorothy had regular programmes on NHK's Radio Japan introducing Japanese folklore, music and musicians, for listeners abroad, as well as a twelve-year TV programme teaching English conversation to Japanese middle-school pupils and singing British folksongs with her Irish harp.
She is well known for her translations of Basho's Narrow Road to a Far Province, Tetsuko Kuroyanagi's best-seller Totto-chan, the Little Girl at the Window, and short stories by Ryunosuke Akutagawa.
Date: Tuesday 10 March 2015, 6.30pm
Venue: The Oriental Club, Stratford House, 11 Stratford Place, London W1C 1ES