Book Launch: Biographical Portraits Vol. IX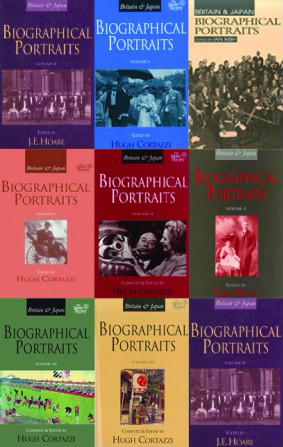 To mark the publication of Biographical Portraits Vol. IX, the Japan Society is holding a special book launch, with accompanying talks by the editor and key contributors. This presentation will last for approximately fifty minutes, giving attendees a flavour of some of the personalities and institutions featured in this volume, and will be followed by a short Q&A session.
This book forms part of a series recording the lives of men, women and institutions who have played a significant role in the development of UK-Japan relations. The current volume, which contains 57 'portraits', brings the Japan Society's collection of individual memoirs to a cumulative total of nearly 500. When read together these give a many-faceted picture of modern history, shedding light on controversial issues, illuminating past successes and failures, and providing a valuable point of reference for researchers and historians.
Structured thematically in four Parts – Japan in Britain, Britain in Japan, Scholars and Writers, Politicians and Officials – the highlights in this volume include 'The Great Japan Exhibition, 1981-82', 'Japanese Gardens and the Japanese Garden Society in the UK', 'Cricket in Late Edo and Meiji Japan', 'Norman Macrae, pioneering journalist of The Economist', 'Arthur Balfour – managing the emergence of Japan as a Great Power', 'Michio Morishima, an economist 'made in Japan'', and 'Margaret Thatcher – a pragmatist who radically improved Britain's image in Japan'.
We are delighted to be able to offer copies of Biographical Portraits Vol. IX free of charge to members of the Japan Society, while stocks last. Copies will be available to collect on the night. Further information about how to obtain your copy if you are unable to attend the event will be available shortly.
Date: Monday 1 December 2014, 6.45pm
Venue: Swedenborg Hall, 20-21 Bloomsbury Way, London WC1A 2TH