Book Launch: Japan, Described and Illustrated by the Japanese, with a presentation by Sebastian Dobson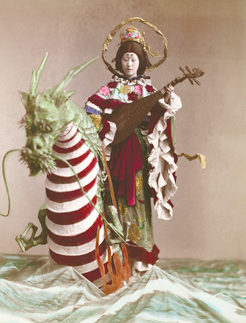 At the end of the 19th century, a craze for all things Japanese spread across the Western world. After two centuries of self-imposed seclusion, the country had begun to open up to outside eyes, and its art and craftwork were eagerly sought after by collectors and artists. Because of its links with the tea trade, Boston, Massachusetts was an epicentre of this movement and in the 1890s, the J.B. Millet Company of Boston embarked upon an extraordinary venture: a complete pictorial record of the country, entitled Japan, Described and Illustrated by the Japanese. With over 250 hand-coloured photographs, Japan was one of the most opulent photographic books ever produced, meaning that the creation of these volumes was painstaking and astonishingly labour-intensive. Now, for the first time, this landmark photographic work has been reproduced in its entirety by The Folio Society.
Sebastian Dobson, an independent scholar of the history of photography based in Antwerp, will give a presentation exploring the history of this book, as well as discussing the photographic techniques used in its creation, including a projected display of images from the book. His recent publications include Under Eagle Eyes: Lithographs, Drawings & Photographs from the Prussian Expedition to Japan, 1860-61 (2011), Art and Artifice: Japanese Photographs of the Meiji Era (2004) and A Much Recorded War: The Russo-Japanese War in History and Imagery (2005). In 2008 he was awarded the annual prize for research excellence by the Japan Society of Arts and History of Photography (Nihon Shashin Geijutsu Gakkai). Joe Whitlock Blundell, Production Director of The Folio Society, will also give a short presentation about the process of reproducing this work. Japan will also be available to browse and buy on the evening. Neil Titman, Managing Editor of The Folio Society, will act as chairperson during the evening, including a Q&A session following the presentations.
Date: 12 June 2012 from 6.30pm
Venue: The Japan Foundation, 0-12 Russell Square, London WC1B 5EH