Book Launch: Japanese Military Power after the Security Legislation: The Rise of East Asia's Sea Power?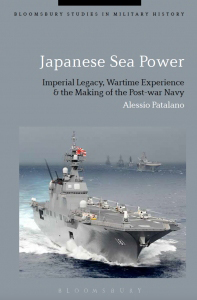 On 27 August 2015, the Japanese Navy, known as the Japan Maritime Self-Defence Force (JMSDF) launched its fourth flattop, the helicopter destroyer Kaga. The significance of this event rested on what this new platform says about the evolution of Japan as a modern military power. In East Asia, the world's fastest militarising region, what kind of military power are Prime Minister Abe's reforms going to create? Is Japan unchaining itself from post-war pacifism, and joining the region's militarisation process? If so, does the risk of the return of an aggressive military posture exist? Judged against the security legislation and two consecutive defence budget increases, some observers have suggested that the country might be moving away from its well-established defence posture.
This book challenges this view. It argues that these assessments fail to acknowledge a military transformation that led to the emergence of East Asia's only sea power.
The book draws upon previously unavailable documents to articulate the strategic aims underscoring such a transformation. It argues that the military policies of the post-war era cannot be understood outside the context of their interaction with the imperial legacy and the wartime experience. This process was crucial for the navy to articulate its roles as a tool of statecraft within a clear national maritime strategy. Today, the launching of Kaga is a powerful reminder of the coming to the age of a maritime state with a navy that, throughout a period of sixty years, met the challenges of rearmament and modernisation to create a force standing as one of the pillars of the country's security policy.
Date: 22 October 2015, 6:00pm
Venue: Daiwa Foundation Japan House, 13/14 Cornwall Terrace, Outer Circle, London NW1 4QP
Tel: 020 7486 4348
Email: office@dajf.org.uk
Web: http://www.dajf.org.uk/event/japanese-military-power-after-the-security-legislation-the-rise-of-east-asias-sea-power
Organiser: The Daiwa Anglo-Japanese Foundation