Book Launch: Kimono Now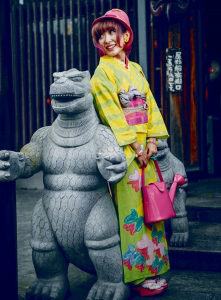 Kimonos are the elegant and timeless national dress of Japan. Simple in construction, they have an implicit allure, such as the details on the underside, and the gentle opening at the nape of the neck. They are held in place with an obi (sash), and wrap the body in glorious and sumptuous textiles often made by master craftsmen.
Despite the undeniable beauty of the kimono, for many people of Japan today, they are cumbersome to put on, and sport a price tag that for most, are not suited to the current economic climate. The number of kimono makers is on the decline, and there are even fears of the kimono culture dying out.
The story doesn't end there, however. There are also people, many of them young, who are putting their energy and fashionable sensibilities into the world of kimono, and breathing fresh life into an industry that is notoriously resilient to change. Some of these people are next in line in the family lineage of kimono makers, while others are coming into the industry from other creative backgrounds. Many designers are taking on the challenge of preserving this culture, while maintaining an innovative outlook that is removed from the obligations and rules of tradition.
Times of adversity can create brilliance, and for some, this is the most exciting time for kimonos. There is a frenetic energy in the industry, and the determination of the people in the scene is exhilarating. This talk will focus on the current makers, designers and aficionados who have a huge responsibility on their shoulders to ensure the world of kimonos lasts another generation. Author of Kimono Now, Manami Okazaki will give a talk on contemporary kimono culture, and introduce a number of cutting-edge creative visionaries who are keeping this exquisite garment relevant today.
*'Kimono Now' (£15, RRP £24.99) will be on sale during the evening.
Date: 20 October 2015, 6:00pm
Venue: Daiwa Foundation Japan House, 13/14 Cornwall Terrace, Outer Circle, London NW1 4QP
Tel: 020 7486 4348
Email: office@dajf.org.uk
Web: http://www.dajf.org.uk/event/kimono-now
Organiser: The Daiwa Anglo-Japanese Foundation