Book Launch – Tales From a Mountain Cave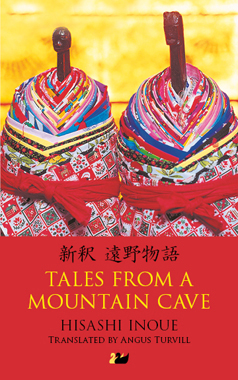 A playwright, novelist, scriptwriter and producer Hisashi Inoue (1934-2010), has been described by Kenzaburo Oe as one of the towering figures of Showa and Heisei Japan. His play Musashi was highly acclaimed in London when performed by the Ninagawa Company at the Barbican in 2010. The Daily Telegraph described it as 'delightful', 'wonderfully funny' yet 'deeply serious'. Inoue's delightful story-telling and irresistible humour are at the core of Tales from a Mountain Cave (Shinshaku Tono Monogatari), published for the first time in the UK.
Raised in Yamagata Prefecture, Inoue spent his high-school years at a Lasallian orphanage in Sendai. As a young man he lived for two years in Kamaishi on the coast of Iwate Prefecture, and it is here that Tales from a Mountain Cave is set. Kamaishi, of great importance in the development of Japan's steel industry, has through its history endured repeated devastation because of war and tsunami. 1,250 citizens lost their lives in the tsunami of March 2011. All royalties and translation fees in relation to this publication are being donated to post-tsunami support projects.
In this special launch of Tales from a Mountain Cave the translator Angus Turvill joins us to discuss the author and the places that feature in the book. He will mention Kamaishi's application for World Heritage status for Hashino Blast Furnace and he will discuss connections between the work and the classic folklore collection Tono Monogatari by Kunio Yanagita. Turvill will also read from the book and discuss some of the translation issues that he faced.
Date: 11 December 2013 from 6.30pm
Venue: The Japan Foundation, London