Book launch: The Growing Power of Japan, 1967-1972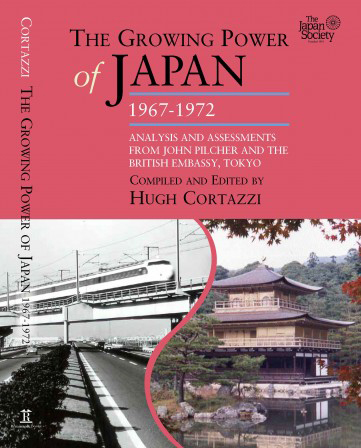 We invite you to join us for the launch of The Growing Power of Japan, 1967-1972: analysis and assessments from John Pilcher and the British Embassy, Tokyo, compiled and edited by Sir Hugh Cortazzi. The publishers, Renaissance Books in association with the Japan Society, would like to thank the Great Britain Sasakawa Foundation, Julia Bonas and others for their generous help towards the costs of publication.
In this volume Sir Hugh has compiled the defining reports from Sir John Pilcher's time as ambassador to Japan from 1967 to '72, a period in which Japan's economy and power grew significantly and her relations with the United States became increasingly strained. Sir Hugh, who worked with Pilcher during these years and was himself Ambassador to Japan from 1980 to '84, will open the launch with an overview of the changing character of Anglo-Japanese relations and of the first overseas visit by a Japanese Emperor. This will be followed by an open discussion led by Chairman of the Japan Society, Sir David Warren, and a drinks reception. We are delighted to announce that all attendees will receive copies of the book.
This collection of Pilcher's reports to Whitehall provides a valuable record of Japan's progress at this turning point in her post-war history, as well as insights into the hopes and expectations of the British government in her dealings with Japan. Pilcher's role during this period was that of bridge-builder between the two countries following the post-war decades of disenchantment and distrust.
Pilcher's reports were not only unusually comprehensive but were characterised by his natural sympathy for the country and deep knowledge of its culture and religion. His writings on Japan have remained largely inaccessible, and unknown to most researchers, and The Growing Power of Japan offers readers a unique insight into the thoughts of this distinguished scholar-diplomat.
Date: Monday 6 October 2014, 6.45pm
Venue: The Japan Foundation, Russell Square House, 10-12 Russell Square, London WC1B 5EH