BrightON Japan Festival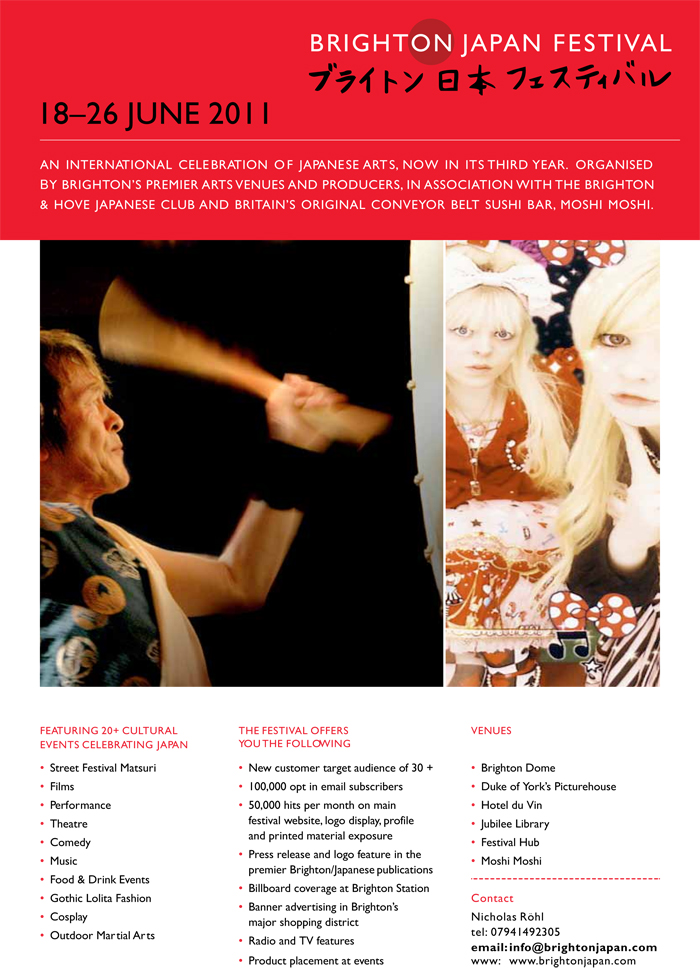 Date: 18 – 26 June 2011
Venue: Moshi Moshi,The Opticon, Bartholomew Square, Brighton, BN1 1JS / duke of Yorks, Preston Circus, Brighton / Brighton Dome, Church Street, Brighton / Hotel Du Vin, Ship Street, Brighton
Tel: 01273-719195
Email: info@moshibrighton.co.uk
Web: http://www.moshibrighton.co.uk
Organiser: Moshi Moshi in association with Asahi beer
BrightOn Japan is a week-long celebration of Japanese film, art, performance and culture brought to you in association with Brighton's best-loved Japanese restaurant Moshi Moshi, and Asahi beer.
The festival will feature TWO open-air street festivals – Moshi Matsuri and the Asahi Anime Festival!
Other events will be held at the city's most
prestigious venues, including Brighton Dome, Duke of York cinema, the Permanent Gallery, an…d Hotel Du Vin.
MOSHI MATSURI
18th-19th June
A celebration of traditional Japanese culture featuring food, performance and art, plus shitamachi: 30 stalls selling Japanese products and food.
ASAHI ANIME FESTIVAL
25th-26th June
Now in its third year, this has become a popular event for fans ofJapanese animation! This year will feature Gothic Lolita fashion, a cosplay parade, manga drawing competitions and stalls selling Japanese toys and fashion accessories.
If you are interested in becoming part of the festival, either as a stallholder or as a performer, we would like to hear from you! Please contact info@moshbrighton.co.uk and mention "BrightOn Japan" in subject title.