British Kendama Open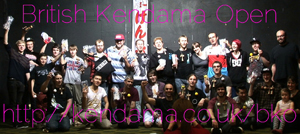 The British Open championships for the Japanese skill-toy.
Kendama is deceptively simple, highly addictive, and great fun.
Come along and have a go, join in, or just watch the pros battle it out for the title. Several different divisions, and fun games too.
Saturday is an outdoor « Social day », with the main competition being on the Sunday.
Date & Venue: 2, 3 May 2015
(Saturday:) Bushey Park, Hampton Court Rd, Hampton, Middlesex TW12 2EJ
(Sunday:)Vine Hall, Vine Road, East Molesey, Surrey (West London) KT8 9LF
E-mail: the-bka@tlmb.net
Web: http://kendama.co.uk/bko
Organiser: British Kendama Association