Burgh House Sunday Brunch Time Concert, AIR DE PRINTEMPS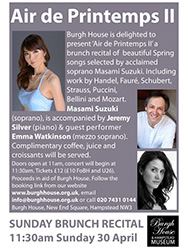 Sunday Brunch Recital: Air de Printemps II
Burgh House is delighted to present 'Air de Printemps II' as part of our brunch recital series; a programme of beautiful Spring songs selected by acclaimed soprano Masami Suzuki, including work by Handel, Fauré, Schubert, Strauss, Barber and Bellini. And some lovely opera duets from Mozart's Così fan tutte and Puccini's Madame Butterfly (flower duet) will also fully stimulate your spring mood!
Date: 30th April 2017
Place: Burgh House, New End Square NW3 1LT
Open at 11:00
Start at 11:30 (duration 1 hour)
Tickets £12 (£10 FoBH and under26) Includes complimentary juice or coffee and croissants.
Date: 30 April 2017
Venue: Burgh House, New End Square, London NW3 1LT
Tel: 020 7431 0144
Email: martha.szk@gmail.com
Web: http://www.burghhouse.org.uk/whats-on/events/air-de-printemps-ii/calendar/04-2017/start-date/2017-04-30/end-date/2017-04-30/event-type/recitals
Organiser: Burgh House