Can a Freeter Buy a House? Contemporary Housing Issues in Japan from the 'Lost Generation' to 'Generation Rent'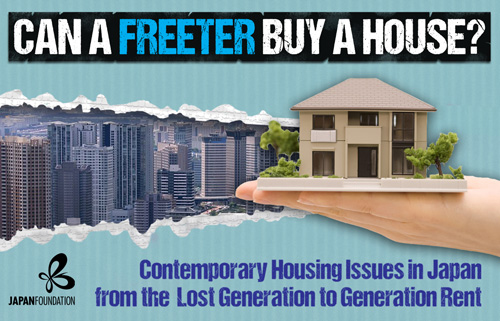 Since the collapse of its speculative asset bubble in the early 1990s and the onset of Japan's first 'lost decade', it has become evident that younger adults have been finding it increasingly difficult to adopt standard life courses, inhibited, in particular, by shifts in economic and labour market conditions. One issue that has seemed to symbolise this shift is the emergence of so called freeters, young casual workers who seemingly reject the Japanese traditional life-course in favour of flexible work and personal goals.
Tapping into these contemporary social concerns, the 2010 Fuji Television drama 'Furita, ie o kau' (Freeter, buy a house) followed the life of Seiji, a recent college graduate who quits his secure office job but resolves to work as a part time labourer to buy a house for his family. But, can a freeter really buy a house in contemporary Japan? And to what extent is Seiji's dream of home ownership still a key life goal for new generations of Japanese young adults today?
This seminar will approach the various issues thrown up by Japan's changing social and economic environment through the lens provided by housing. Drawing on a range of sources, including examples from television drama, art, and architecture, Dr Chris Perkins (University of Edinburgh) will investigate the role of housing in post-war Japan, examining ways in which housing has been used to mobilise the workforce, and how some activists in Japan are now radically reconceptualising housing.
Date: 27 November 2015 from 6.45pm
Venue: Mander Hall, Hamilton House, Mabledon Place, London, WC1H 9BD