Charity Kimono and Culture Evening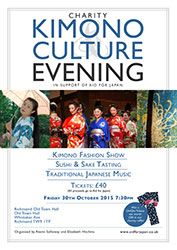 Help us raise money for AID FOR JAPAN with an evening of Japanese kimono, food and music. The tickets are just £40 each and all proceeds go to Aid for Japan.
The evening includes:
Kimono Fashion Show:
A colourful educational show to illustrate the traditional kimono of Japan. We see many fusions of the Japanese kimono in current fashion. Last year New Look sold 1 kimono top every second over the summer and this year kimono inspired fashion is everywhere. It is time to remember where this trend came from and the plight of the traditional kimono artisan. Traditional kimono is dying.
Charity Presentation:
A thoughtful presentation on the work of our charity by two of our youngest volunteers who this summer experienced a different side of life. A life after loss, a life rebuilding.
Food & Drink:
Sushi & Sake is the theme but there will also be soft drinks and other alcoholic beverages to enjoy.
All the hosts & entertainers are volunteers to make sure that the maximum amount of your ticket price goes to the charity.
Win a free UniQlo Yukata worth £50!
Date: 30 October 2015
Venue: Richmond Old Town Hall, Whittaker Ave, Richmond, TW9 1TP
Email: akemi@akemisolloway.co.uk
Web: http://www.aidforjapan.co.uk/afj/kimono-culture-evening-event/
Organise: Aid For Japan