Chelsea Flower Show 2011 – The Korea Artisan Garden, Hae-Woo-So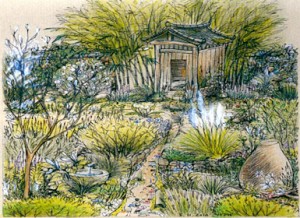 Date: 24/05/2011 ~ 28/05/2011
Venue: Royal Hospital, Chelsea, London
Themes: Artisan garden, Relaxation
Sponsored by: Korean Horticultural Society
Designed by: Jihae Hwang (Muum-www.muum.kr)
Built by: Christ Holland
An outdoor Oriental latrine is to be the unconventional centre piece of a Korean garden in this year's 2011 Chelsea Flower Show. This is also the first time that Korea has ever been represented in the show and this unique installation offers not only aesthetically pleasing designs and healing flora but also poses some deeper philosophical questions.
Located in the Artisan Garden The Hae-Woo-So (Emptying One's Mind: Traditional Korean Toilet) design was created by artist Jihae Hwang who wanted to present a spiritual oasis where you can free yourself of anxious thoughts, re-attune the body and attain peace.
Hae-woo-so is the Korean word for the traditional Korean toilet. The inspiration behind the garden is that for centuries the Korean people believed that going to the toilet was a cathartic experience and considered it to be highly spiritual.
The wild flowers and vintage look of the toilet building are key elements of this predominantly green-toned garden. The pathway to the toilet from the garden's entrance is also a significant feature; the process of emptying one's mind takes place on the walk through the centre of the peaceful garden, enjoying the beauty of nature.