Chihiro Yamanaka female trio'THE SPHERES'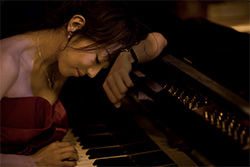 Chihiro Yamanaka – key/piano, Dana Roth – electric bass & Karen Teperberg – drums
A welcome return for Japanese- born, New York City-based pianist, Chihiro Yamanaka, a star of last year's Ronnie Scott's International Piano Festival. One of her native country's most popular artists, she has recorded twenty albums principally for the Verve/Universal label, many of which have featured US heavyweights such as bassist Larry Grenadier and drummer Jeff 'Tain' Watts. Now signed to Blue Note Records, expect virtuosic, light-speed chops, and an irresistible swing to her playing and writing. She performs here with her new all-female trio Spheres.
Tickets: £20.00 – £37.50
Date: 11 & 12 April 2016
Venue: Ronnie Scott's Jazz Club, 47 Frith Street, Soho, London W1
Tel: 020 7439 0747
Web: http://www.ronniescotts.co.uk/
Organiser: Ronnie Scott's Jazz Club