Concert: An Evening with Taro Takeuchi and Kyoko Murai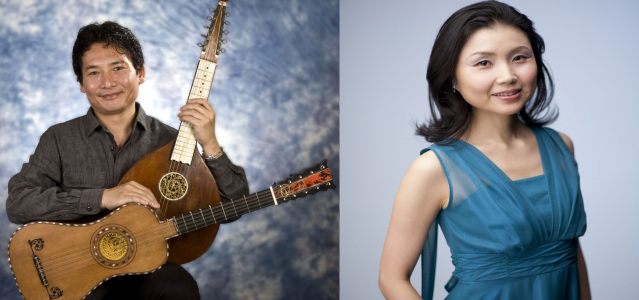 We welcome back the lute and baroque guitarist Taro Takeuchi to the Daiwa Anglo-Japanese Foundation, who will be accompanied by soprano Kyoko Murai. They will be performing 17th century British music, with songs and instrumental music by Henry Purcell and his contemporaries.
Taro Takeuchi was born in Kyoto, Japan. After completing his degrees in law and music in Tokyo, he studied early music at the Guildhall School of Music and Drama. He now lives in London and he has been in great demand as a soloist and ensemble player. Taro has toured most European countries, Australia, New Zealand, Taiwan, the USA and Japan. As a continuo player he has worked with The English Concert, The Royal Opera House, The Orchestra of the Age of Enlightenment, Berlin Philharmonic, as well as Sir Simon Rattle, Rachel Podger and Nigel Kennedy. He has made numerous recordings for Deux-Elles, EMI, Hyperion Records, Harmonia Mundi, the BBC and others. His solo recordings Folias!, The Century That Shaped the Guitar and Affectuoso: Virtuoso Guitar Music from the 18th Century were received with critical acclaim and high praise.
Kyoko Murai (soprano) studied at the Trinity College of Music in London and won the Paul Simm Opera Prize and first prize in the Roy Pleasance singing competition. She furthered her studies at The Guildhall School of Music and Drama with support from the Bunka–cho, a Japanese foundation which promotes young musicians studying abroad. In 2007 Kyoko gave a solo recital at Greenwich International Early Music Festival as winner of the Ella Kidney Early Music competition. Since then her interest in 17th century English music has broadened and she has taken part in The Musical World of Samuel Pepys with performances in London and Cambridge with Philip Thorby. Kyoko also worked with English Voices directed by Timothy Brown and participated in the Philharmonia Chorus Professional Singers' scheme. She performs regularly in Tokyo and London.
Date: 17 July 2014
Event time: 6:00 – 7:00pm
Drinks reception: 7:00pm – 8:00pm
Venue: 13/14 Cornwall Terrace, Outer Circle, London NW1 4QP
Organised by: The Daiwa Anglo-Japanese Foundation