Concert For Easter Week: Hiromi Okada – piano recital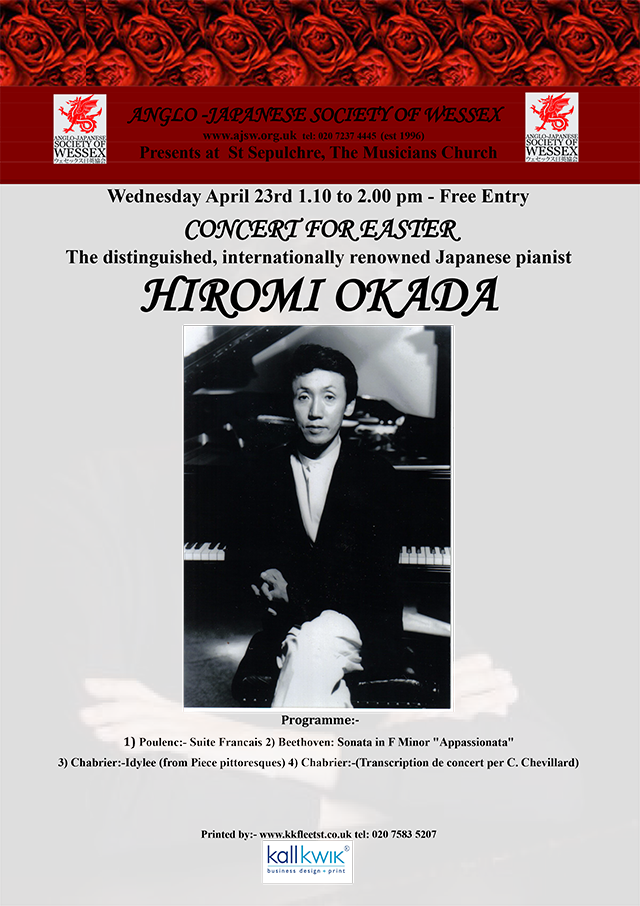 Programme:
Polenc: Suite francaise –
1. Bransle de Bourgogne
2. Pavane
3. Petiet marche militaire
4. Complainte
5. Bransle de Champagne
6. Sicilienne
7. Carillon
Beethoven: Sonata in F minor, Op. 57 "Appassionata"
Allegro assao – Piu Allegro
Andante con moto
Allegro ma non troppo – Presto
Chabrier:
Idylle (from Piece pittoresques)
Espana (Transcription de concert par C. Chevillard)
Artist info:
The distinguished, internationally renowned Japanese pianist, Hiromi Okada, has long received acclaim for his solo recitals, chamber music and as soloist with many orchestras throughout the world for a wide range of concertos including several contemporary Japanese compositions.
He has made many recordings, BBC radio broadcasts and, TV appearances in Japan, where his Masterclasses are famous. Following his Wigmore debut recital in 1985, Hilary Finch referred in The Times to Okada's "technique of massive assurance, imaginatively developed to articulate a passionately engaged musical understanding". The American Liszt Society described his Liszt recital in The Great Romantics Festival (2000) as "amazing" [Hugh Fraser, Hamilton Spectator] "seldom heard such clarity of detail, range of dynamic expression and powerful drama brought together in music. The audience not only moved by Okada's emotional expressiveness were also awed by his technical powers". In 2002 Okada was the soloist with the Hamilton Philharmonic Orchestra in Beethoven's Piano Concerto No.3 (The Great Romantics Festival, 2002).
Okada's inclusion of the Yashiro Sonata in his Wigmore Hall recital of February 2003 followed the release in November 2002 of his NAXOS recording of Yashiro's Piano Concerto with the Ulster Orchestra conducted by Takuo Yuasa. Okada has no rival in performing contemporary music in Japan, his performances there have included the world première of Israeli composer Ari Ben-Shabetai's Piano Concerto, the première of Kondo's Piano Quartet and Miyoshi's Piano Concerto with the Tokyo Philharmonic Orchestra.
Bela Bernard, Arietta, described Okada's Camerata CD of Beethoven's 'Hammerklavier' Sonata as "an achievement that affirms (Okada as) a Beethoven pianist of the first order. Phenomenal dexterity, crystalline textures and assured structural projection are qualities integral to Beethoven performance especially where the monumental 'Hammerklavier' is concerned".
Okada performs and records regularly in Japan and Austria with the Vienna Philharmonic Orchestra Piano Trio. Camerata has released a recording of the Brahms Horn Trio coupled with the Clarinet Trio in which Okada performs with Stransky (Hrn.), Schmidt (Cl.), Varga (Vc.) and Wächter (Vn.) – all principal players of the Vienna Philharmonic Orchestra. In April 2005, Okada recorded Hayasaka's Piano Concerto for NAXOS with Jablonsky and the Russia Philharmony Orchestra. The CD was released in September 2006.
Okada continues his annual "France-plus series" in Tokyo in which solo recital programmes include French works combined with compositions by non-French composers such as Bach, Beethoven, Schubert, Albeniz and others. The series began in 2003 and will be completed in 2012. The concerts have proved very popular and always attract a full house.
Hiromi has performed Concertos by Beethoven, Brahms, Tchaikovsky and Prokofiev with Japan's renowned orchestras: Nagoya Philharmonic, Kyoto Symphony, Japan Philharmonic and Tokyo Philharmonic under their internationally famous conductors: Hirokami, Takaseki, Kobayashi, Otaka Inoue and Milanov.
His numerous recordings have attracted international acclaim and ecstatic reviews. His Yashiro Piano Concerto disc received the "Listeners' Award" in the Record-Geijutsu magazine, the Japanese equivalent of The Gramophone. CDs released by Camerata in 2009-10 include Piano works by Minyoshi and Cello Sonatas by Mendelssohn with cellist Robert Nagy (Soloist of the Vienna Philharmonic Orchestra).
In October 2010, Hiromi Okada was Artist-in-Residence at the University of British Columbia, Vancouver where he gave an extremely successful recital and Masterclass.
In March 2011, Okada opened the Liszt Bicentenary recital series at Hurstwood Farm in Kent. He followed this in April with an all-Beethoven programme, including the "Diabelli Variations", recorded live in Tokyo. Hiromi performed Beethoven's Piano Concerto No.5 with the Philharmonia Orchestra in May 2011, conducted by Krzysztof Urbanski.
In November 2011, he played Chopin Concerto No.1 with the Japan Philharmonic under Alexandre Lazarev. He played Ligeti's Piano Concert with Tokyo Metropolitan Symphony Orchestra under Takaseki. He also performed with NHK Symphony Orchestra under Rossen Milanov.
In the autumn of 2012, he gave the Japanese Premier of Berio's second Piano Concerto.
Hiromi Okada has performed at numerous international festivals including Mayfest (Glasgow); La Roque d'Antheron (France); The Great Romantics Festival (Hamilton, Canada); Asian Music Week, Tokyo Summer Festival; Istanbul International Piano Festival and Philharmonic Week (Steinbach, Austria).
Date: Wed Apr 23rd 2014, 1:10–2:00 pm
Venue: St. Sepulchre, the Musicians Church, Holborn Viaduct, London EC1A 2DQ
Tel: 020 72374445
Email: godfreyking316@btinternet.com
Web: www.ajsw.org.uk
Organiser: Anglo-Japanese Society of Wessex