Contemporary Art History: Japan – A Book Talk by Hideki Nakazawa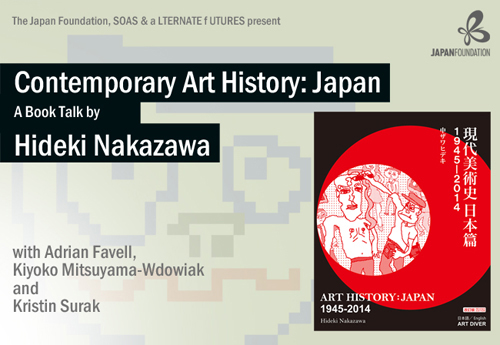 Hideki Nakazawa's Contemporary Art History: Japan, is a foundational text in the international understanding of post-war art in Japan. First published in 2008 as part of an exhibition at Museum of Contemporary Art, Tokyo, it offered a bi-lingual panorama of the diverse trends, movements and personalities in Japanese art from the 1950s to the present day, stressing their originality in relation to global discourses on Dada, Surrealism, Art Informel, Neo-Pop, Conceptualism and Neo-Expressionism, as well as introducing key works of Japanese art criticism. While the avant garde of the 1950s to 70s is beginning to be well mapped out by international art historians, later periods – of which Nakazawa has intimate autobiographical knowledge – remain less well known.
On the occasion of the re-publication by ART DIVER (artdiver.moo.jp) late last year of a fully revised, updated and re-translated version of this unique work, we are pleased to welcome Hideki Nakazawa to SOAS as part of his first ever visit to London. He will present his original explanation of Japanese contemporary art trends in terms of periodisation and cyclical history, in the company of three experts on Japanese art and culture.
Date: 26 January 2015 from 7.00pm
Venue: The Brunei Gallery, Room B102, School of Oriental and African Studies, University of London, Thornhaugh Street, Russell Square, London WC1H 0XG