Curating Mariko Mori's 'Rebirth' – Kathleen Soriano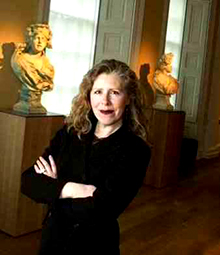 The Japan Society is delighted to welcome Kathleen Soriano, Director of Exhibitions at the Royal Academy of Arts, to give the inaugural lecture of 2013. She will be discussing the RA's current Mariko Mori exhibition, Rebirth, running from 13 December 2012 to 17 February 2013.
Rebirth is Japanese artist Mariko Mori's first major exhibition in London for 14 years. One of the most innovative artists of her generation, Mori's work is known for its seamless fusion of science and spiritualism, East and West. Centred on the death and birth of a star, Rebirth will feature celebrated works and brand new pieces; from photography and works on paper to sound works, sculpture and stunning large scale installations.
Mariko Mori was born in Japan in 1967 and worked as a fashion model in the late 1980s, whilst studying at Bunka Fashion College. This strongly influenced her early works, such as Play with Me, in which she takes control of her role in the image, becoming an exotic, alien creature in everyday scenes. In 1989, she moved to London to study at the Chelsea College of Art and Design. She now lives and works in New York. Mori also heads a non-profit organisation, the Faou Foundation, which has a mandate to create a series of site-specific earthworks across six continents, to engage local communities and enhance public interactions with the natural environment.
Kathleen Soriano was appointed Director of Exhibitions at the Royal Academy of Arts in January 2009. Prior to her appointment Kathleen Soriano was the Director of Compton Verney, and previously Head of Exhibitions and Collections Management at the National Portrait Gallery. Kathleen, who was one of the first generation of Clore Leadership Programme Fellows, was educated at the University of Leicester and previously worked at the Royal Academy of Arts in the late 1980s.
Date: Monday 21 January 2012, 6.45pm
Venue: The Swedenborg Society , 20-21 Bloomsbury Way (Hall entrance on Barter St), LondonWC1A 2TH
Nearest underground station: Holborn
Fee: Free – booking recommended