Curator-led tour of the Fan Museum Archives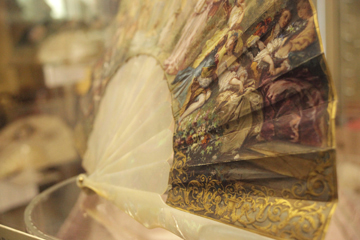 The Japan Society is being offered a rare opportunity to visit behind the scenes and explore the Fan Museum's archives, where the majority of the Museum's collection of Japanese fans is stored. In the company of founder and curator Helene Alexander, guests will have the chance to examine fans from a range of periods and styles. Following the tour, afternoon tea will be served in the beautifully restored Georgian Orangery.
The Fan Museum is the only museum devoted entirely to every aspect of fans and fan making, home to a collection of more than 3,500 fans from around the world, dating from the 11th century to the present day. The Museum stages themed exhibitions throughout the year, including fans on loan from other collections. The curator-led tour will also include a chance to examine the current exhibition The Fan in Europe: 1800 – 1850, featuring an eclectic array of fans from this period.
Helene Alexander (née Adda) was born in Alexandria, Egypt in December 1932. She was educated at the Lycée Français d' Alexandrie. Having studied drawing and painting with Vera Beck and Giovanni Sebasti, she specialised for a diploma in theatrical design at the Central School of Art and Design (then the Central School of Arts and Crafts) in London. She also holds a degree in History of Art from London University and has been associated with the Victoria and Albert Museum where she worked for thirteen years as a volunteer in the textile department.
Over the years, she has assembled one of the most comprehensive collections of fans and fan leaves in the world; and it is this collection upon which The Fan Museum in London was founded. She has mounted numerous exhibitions of fans in many parts of the country and has lent from her collection to France, Germany, Italy and the USA. She was the founding president of the Fan Circle International, is President of the Fan Museum Trust and currently serves as Director and Curator of the Fan Museum in Greenwich.
Date: Saturday 23 March 2013, 2.00pm
Venue: The Fan Museum, 12 Croom's Hill, London SE10 8ER
Nearest station: Greenwich or Cutty Sark (DLR)
Fee: £11.00 for Japan Society members and their guests (Includes afternoon tea following the tour)
Booking deadline: Wednesday 20 March