Curator-led tours of In a Nutshell: Japanese Netsuke from European Collections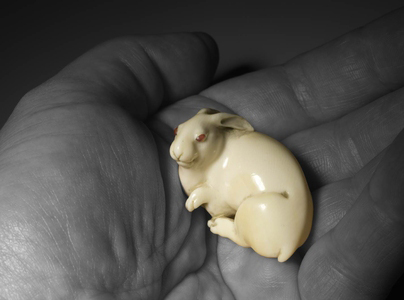 The Embassy of Japan is hosting a stunning collection of over two hundred netsuke gathered from a number of private collections in Europe and the World Museum, Liverpool until 31 May. Most of the pieces have never been on public display before, including Edmund de Waal's Hare with Amber Eyes (pictured above), made famous in his family memoir of the same name.
Japan Society members are being offered a chance to visit this one-off collection in the company of curator, and netsuke expert, Rosemary Bandini. Tours will last approximately 30 – 40 mins with a chance to revisit the displays afterwards and ask questions related to the individual exhibits.
Date: Tuesday 21 May 2013 (Tour timings: 2.00 – 3.30pm / 4.00 – 5.30pm)
Venue: Embassy of Japan, 101-104 Piccadilly, London W1J 7JT
Fee: Free – booking essential
Booking deadline: Friday 17 May
Light refreshments will be available after each tour