DAMNABLY AT 8: SHONEN KNIFE 985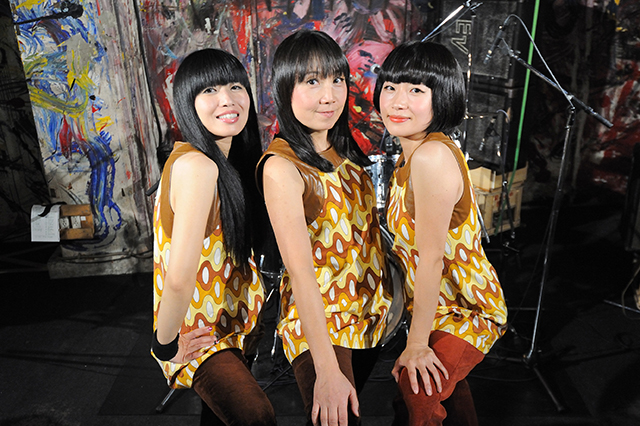 As part of Damnably's 8th birthday celebrations we have Shonen Knife's 985th gig & end of tour party at Cafe Oto in London, in lieu of missing their 1000th.
All female Japanese cult trio Shonen Knife finish their 29 date European 'Overdrive' tour with one final London gig which is their 985th gig.
Formed in Osaka almost 33 years ago, the trio rose from humble DIY beginnings to touring with Nirvana on their 'Nevermind' tour, trailblazing a path for women in music and inspiring legions of bands. Championed by Nirvana, Sonic Youth and hailed as a favourite by the crème-de-la-crème of Alternative Rock, Shonen Knife remain one of the most influential and beloved of Japanese rock exports.
Live, they are a tight with machine-precision, punching out fast, highly exciting sets of Punk, Pop, Rock & Metal hits, all coated with their own distinctively quirky and life-affirming charm. As they fast approach their 1,000th gig, Shonen Knife's joy and invention shows no sign of fading. As Naoko says, "Let's Rock!"
"When I finally got to see them live, I was transformed into a hysterical nine-year-old girl at a Beatles concert." Kurt Cobain.
Uncut: "rocks like Motorhead designed by Hanna-Barbara"
BBC Music: (Louis Patterson – 'Freetime' ) "The Osaka Ramones, you must concede, still have it."
BBC Music: (Jude Clarke 'Pop Tune' ) 7/10 "While by no means succumbing to the blank-eyed nihilism of their heroes the Ramones, then, this album nevertheless hints at a jaded corner in the psyche of this sunniest of bands. It might even, ultimately, make them all the more appealing."
The Independent:(Simon Price) 8/10 "There are two types of people: those who enjoy thrashy Japanese girl-punk, and those who have something wrong with them."
The Sunday Times: "…irrepressible slice of bounce-along indie-pop. Beguiling." Stewart Lee
Date: SUN 8TH JUN, 2014 8pm-11pm
Venue: Cafe OTO, 18 – 22 Ashwin street, Dalston, London E8 3DL
Web: http://www.wegottickets.com/event/277246