Depāto: The Role of the Department Store in 20th Century Japan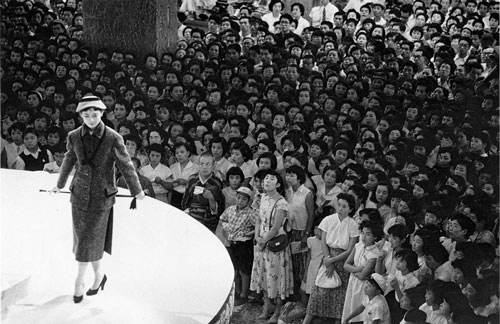 For the people of Japan throughout the 20th century, department stores offered a window into modernity and the outside world. Since the opening of the first department store in Japan in 1904, these institutions have been influential in introducing modern, urban and foreign lifestyles to Japan. Not only shops selling fashion, food and homeware; these department stores also hosted exhibitions and workshops to educate customers, and offered a more luxurious and sophisticated shopping and leisure experience.
In this special seminar, Dr Tomoko Tamari, (Goldsmiths, University of London) will discuss the development of department stores in Japan and their effect on popular culture and lifestyle. She is joined by Professor Janet Hunter, (London School of Economics and Political Science), who will place the development of the department store into the broader context of the changing Japanese economy through the 20th century.
The seminar is inspired by a photograph of a fashion show held in the Mitsukoshi department store in 1956, on display at the Japan Foundation's exhibition "Metamorphosis of Japan after the War" until 26th April.
Date: 20 March 2015 from 6.30pm
Venue: Room 728, Institute of Education, 20 Bedford Way