Design for living with kids – talk by Shu Hagiwara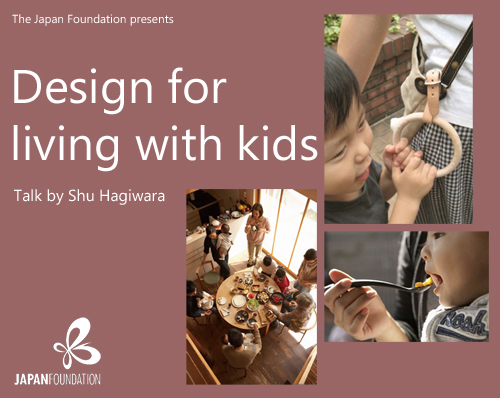 In a modern environment, life with a child necessitates different requirements and results. The nuclear family in contemporary Japan has seen a rise in working mothers and along with the decline of the childbirth rate, it is becoming increasingly important for a shift in perception as to what design and designers can offer in order to accommodate these sociological and localised changes. As such, Japanese product design reveals that designers are creating items not only from the viewpoint of the children that will be the direct users but also from the perspective of families living with the children.
Shu Hagiwara, designer and advocate of design for children has for the past decade been dedicated to the grass-root project "kids, Goods and things" which offers a platform for designers to explore what is needed in busy households. In this special talk, Hagiwara will introduce his long term activities while showcasing the products and ideas that have stemmed from them, including designs which facilitate the development of identity, hand-eye coordination, and the strengthening of relationships with parents, siblings, and other children. This talk will also reflect upon some essential issues in modern design and how designers can be seen to be proactive promoters of social change by creating products that are not only user-friendly but also sustainable and lovable.
Date: 2 March 2016 from 7.00pm
Venue: Banqueting Hall, Chelsea College of Arts, 16 John Islip Street, London SW1P 4JU