Dino Time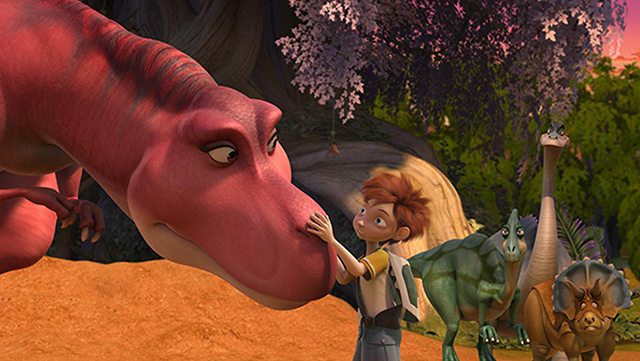 Ernie needs an escape. His mum, Sue, is a strict disciplinarian, his little sister, Julia, rattles on him every chance she gets, and he just can't seem to stay out of trouble. Ernie visits his neighbour Max, who with the help of his genius father, has invented a sleek, egg-shaped contraption that he believes can travel through time. Suddenly, Julia bursts in to bust the two boys again, and in the ensuing chaos, the time machine whirs to life and closes its doors on the three arguing kids. After a violent jolt, the hydraulic doors hiss open to reveal a gorgeous green valley, covered with lush jungle untouched by mankind. A shadow passes overhead, and the kids look up to see the bewildered face of a living, breathing Tyrannosaurus Rex. Max and Julia are scared stiff, but as long as they're not being eaten Ernie welcomes the vacation from his mother's authority. The time machine has lost a vital component in the crash, and the three kids can't get home without it. Unfortunately, when a group of egg-poaching dinosaurs sneak away with the time machine, the trouble really begins.
Edited by Paul Wadey
Film info
2012. Directed by Choi Yoon-suk and John Kafka, starring Melanie Griffith, Jane Lynch, William Baldwin, Stephen Baldwin, Rob Schneider, 85 mins.
Odeon Panton Street, 07 Nov 15 1:00 pm