Discover Japan: a free one-day course for teachers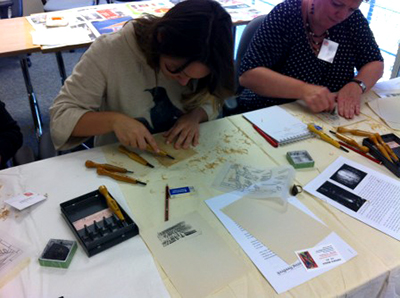 The Japan Society, in association with Plymouth University is pleased to invite teachers to Discover Japan a FREE-one day CPD course for teachers.
Are you interested in using Japan in your teaching? In this course, we will look at where it fits in the curriculum and where to find useful teaching materials and supplementary resources. Practical workshops with experienced tutors provide the skills needed to incorporate new materials into your scheme of work. The day will comprise separate strands for primary, art, language and humanities.
PRIMARY: Discover the true essence of haiku with Paul Conneally and come away with tips and techniques to allow your pupils to use this form creatively to prevent it being a mere syllable counting exercise. You will explore the wide range of manga styles and traditions with Chie Kutsuwada and learn to speak Japanese with Seiji Fukushima, Chief Japanese Language Advisor at the Japan Foundation.
ART: Add a Japanese flavour to your art curriculum as you learn about various Japanese art forms, presented in a practical way by Japanese specialists. You will explore the wide range of manga styles and traditions with Chie Kutsuwada, discover the art of Japanese woodblock printing with Hiroko Imada and learn the techniques of traditional Japanese style paining with Peter Cavaciuti.
LANGUAGE: Be inspired by the Japanese language and learn how to introduce Japanese into your secondary curriculum with Crispin Chambers, Japanese teacher, Tavistock College. You will learn new teaching methods and come away with a variety of teaching tools that will help you to inspire and engage your students.
HUMANITIES: Delve in time and discover more about Japanese archaeology and Geography through the launch of a new Online Resource for Japanese Archaeology and Cultural Heritage developed by the Sainsbury Institute for the Study of Japanese Arts and Cultures. You will explore Japan with Stephen Schwab, Geographical Association North-West advisor, learning creative ways to incorporate Japan into the new KS3 curriculum and also work with the British Cartographic Society while taking part in their interactive workshop 'Restless Earth'.
Date: Monday 29 September 2014, 9.00am to 3.45pm (registration from 8.45 am)
Venue: Plymouth University, Drake Circus , Plymouth, Devon PL4 8AA