Discover Japanese Food #6: Atsuko's "Kinoko okowa" (THE EAST Campaign in Association with Atsuko's Kitchen)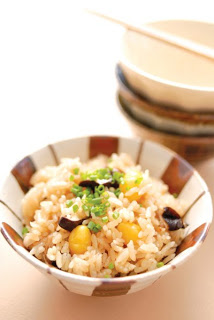 Okowa, means a type of rice dish made with mochigome, or sweet rice. It has an extra sticky texture, much more than normal rice. It is also used for making mochi (rice cake). You can use only mochigome for this recipe but I suggest using half mochigome, and mix with half normal Japanese rice. This will give a milder texture than using the 100% mochigome.
Also it is a great idea to add mochigome to other types of rice to make a rich texture.There are many types of okowa in Japan such as red beans (sekihan) and chestnut okowa, mountain vegetables (sansai) okowa, but you can also make okowa with a variety of ingredients.
You can cook mochigome using the same method as normal rice, either with a rice cooker or heavy sauce pan.
This recipe is a seasonal okowa with a variety of wild mushrooms and gingko nuts:
* Ingredients: Serves 4
150 ml Japanese rice
150 ml Mochigome (sweet rice)
1 cup Variety of mushroom
5 cm Renkon (lotus root)
8 Ginnan (gingko nuts)
* Seasonings:
1½ tbsp Mirin
1½ tbsp Shoyu (dark soy sauce)
⅓ tsp Salt
1 tbsp Sesame oil
For garnishing:
A litle of Aonori
* Preparation:
1. Combine the Japanese rice and mochigome rice, and wash in a strainer under running water.
2. Leave to drain for 30 mins, until the rice separates again.
3. Meanwhile trim the mushroom then tear into pieces.
4. Cut the renkon into small pieces.
* Method:
1. Add the rice, mushroom, renkon, ginnan, sake, salt, shoyu, sesame oil, and 300ml of water in a pan, mix well.
2. Bring it to the boil with high heat.
3. As soon as it starts boiling, reduce to a very low heat and simmer for 11 mins.
4. Remove from the heat and leave it for 10 mins to calm down.
5. Mix gently from bottom to top.
* It is good for making rice balls, as mochigome is really sticky.
6. When you serve it, sprinkle a little aonori on top of the rice.