Discover Korean Food 120: Dr. Sook-Ja Yoon's "Yukjongyong Bibimbap"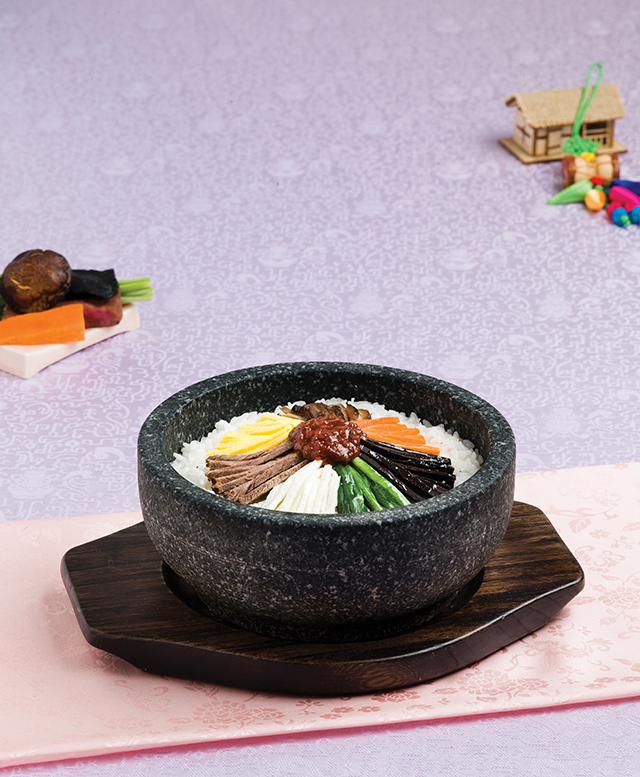 Yukjongyong Bibimbap is a rice dish mixed with Vegetables, Cistanches Herba, Garnish, and Chili Paste. Yukjongyong is good for: Digestion, Muscle, and Bones. It prevents from constipation and fatigue.
[Ingredients & Quantity]
2&1/2 cup Nonglutinous Rice, 3 cups Water, 450g Beef, 50g Chives, 2 Egg, 3 Shiitake, 15g Cistanches Herba, 1/2 Carrot
* Beef Chives Seasoning Sauce: 1tbsp Say Sauce, 1/2tbsp Sugar, 1/2tsp Minced Spring Onion, 1/2tsp Minced Garlic, 1tsp Sesame Salt, 1tsp Sesame Oil
* Chili Paste Sauce: 5tbsp Chili Paste, 20g Minced Beef, 2tsp Minced Spring Onion, 1tsp Minced Garlic, 6tbsp Water, 1tbsp Sugar, 1&1/2tbsp Sesame Oil
[Recipe]
1. Soak the Nonglutinous Rice in water for 30 minutes. Drain them.
2. Clean the Beef and Cut in half. Boil them for an hour with the Cistanches Herba. Take them out. Cut the Beef 0.3cm in width and Thickness, and 5cm in length.
3. Blanch the Chives in boiling water. Cut them in 5cm length. Season them with the Beef and the Cistanches Herba.
4. Cut the Carrot in 0.3cm width and Thickness, and 5cm length. Pan-fry them.
5. Cut the fried egg in 0.3cm width and thickness, and 5cm length.
6. Boil the Rice for 8 minutes at high temperature. Boil the for 3 minutes at medium temperature. Steam them for 10 minutes at low temperature.
7. Make the Chili Paste Sauce by mixing the ingredients.
8. Dress the Rice with the vegetables and Serve them with the Chili Paste Sauce.
[Tips]
* Don't cook the rice too sticky.
* You could add some Sugar when you make the Chili Paste Sauce