Discover Korean Food 121: Dr. Sook-Ja Yoon's "Junbok Cho"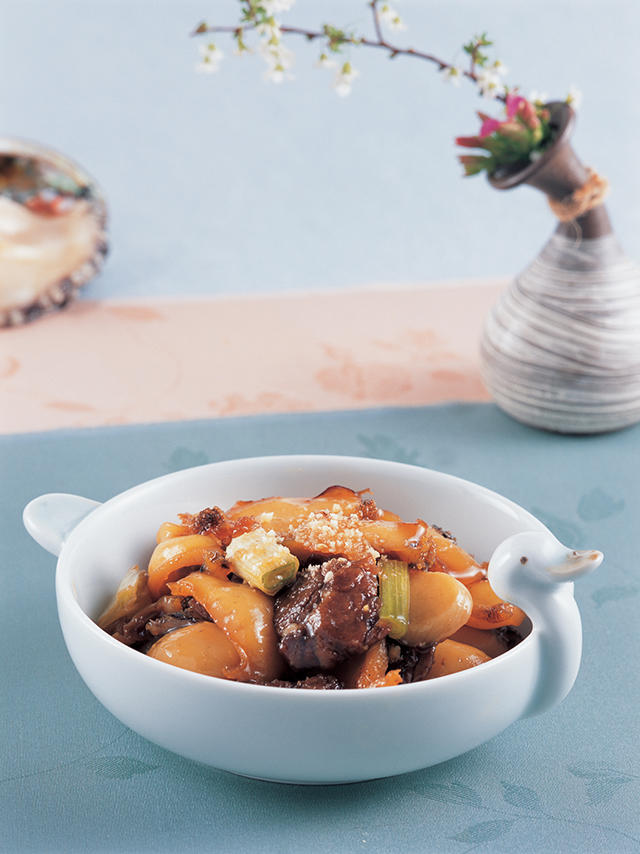 (Ingredients & Quantity)
200g (1) Abalone , 400g (2cups) Water, 2g(½tsp) Salt
60g Beef
15g Spring Onion, 5g Garlic, 3g Ginger
0.1g Pepper Powder, 60g (4tbsp) Water
6g Honey (1tsp), 2g (½tsp) Sesame Oil, 2g (1tbsp) Pine Nut Powder
Seasoning Sauce: 18g (1tbsp) Soy sauce, 6g (½tbsp) Sugar
(Preparation)
1. Clean the Abalone. Remove the inside.
2. Cut the beef 0.3cm thick, 2.5cm wide and long.
3. Wash the Spring Onion, Garlic and Ginger. Cut the Spring Onion in 2cm long. Cut the Garlic and Ginger in 0.4cm thick.
(Recipe)
1. Boil the water for 2 minutes. Add salt. Blanch the Abalone for 30 seconds. Cut it in 4cm wide, 3cm long and 0.5cm thick.
2. Boil the Seasoning Sauce for a minute. Boil down for 3 minutes.
3. Add the Beef, Abalone, Garlic, Ginger. Boil down for 5 minutes. Add the Spring Onion. Add water and boil down for 2 minutes.
4. Add the Honey and Sesame Oil. Stir them.
5. Place them on the plate. Add the Fine Nut Powder.
(Tips)
. Do not cook the Abalone at high temperature because it will become tough.