Discover Korean Food 123: Dr. Sook-Ja Yoon's "Juksoon Gim"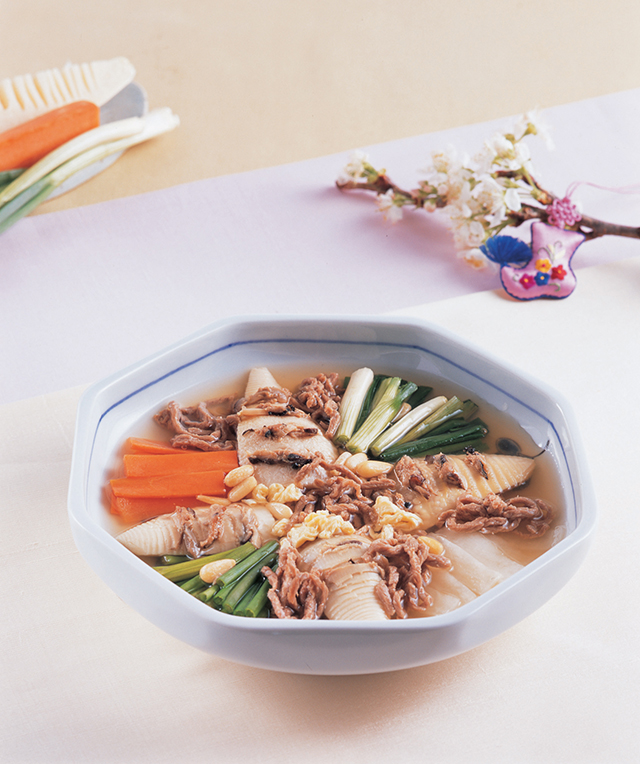 (Ingredients & Quantity)
130g Bamboo Shoot, 600g (3cups) Water, 50g Beef
20g Minced Beef, 5g (1) Shiitake Mushroom , 0.5g Manna Lichen
3.5g (1tsp) Fine Nut, 60g (1) Egg
200g (1cup) Water, 6g (1tsp) Soy Sauce
Seasoning Sauce: 6g (1tsp) Say Sauce, 2g(½tsp) Sugar, 4.5g(1tsp) Minced Spring Onion, 2.8g(½tsp) Minced Garlic, 2g (1tsp) Salt with Parched Sesame, 0.3g (⅛tsp) Pepper Powder, 4g (1tsp) Sesame Oil, 20g Carrot, 10g Spring Onion, 30g Radish, 10g Dropwort
(Preparation)
1. Clean the Bamboo Shoot. Cut them into 7cm long.
2. Cut the Beef into 4cm long, 0.3cm wide and thick. Soak the Mushrooms for an hour. Remove the Pillar of the Shiitake Mushroom; cut into 3cm wide and 0.2cm thick. Remove the navel of the Manna Lichen; chop into 3cm long and 0.1cm wide
3. Season the Minced Beef with the Mushrooms (*Inside 1).
4. Cut the Carrot, Spring Onion, and Radish into 4cm long and 0.2cm wide. Remove the leaf of the Dropwort and cut into 4cm long.
5. Beat the Egg.
(Recipe)
1. Boil the Water for 3 minutes. Blanch the Bamboo Shoot for a minute. Score them.
2. Mixed the Bamboo Shot with the *inside 1.
3. Place the Beef, Carrot, Spring Onion, Radish, and Dropwort in the pot. Add the Bamboo Shoot on top of them.
4. Pour Water. Boil them for 2 minutes at high temperature. Season them with the Soy Sauce. Boil them for 3 minutes at medium temperature.
5. Add the Egg and boil them for a minute at low temperature.