Discover Korean Food 126: Dr. Sook-Ja Yoon's "Jat Gook Soo"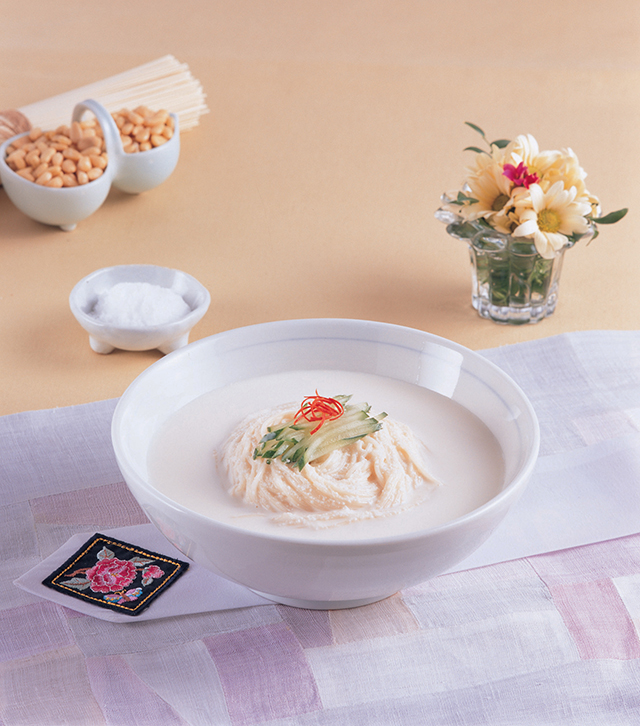 [Ingredients & Quantity]
150g(1¼ cups) Fine Nuts, 600g(3 cups) Water
300g Fine Noodles, 2kg (10 cups) Water, 200g (1 cup) Water
80g (½) Cucumber, 1g(¼ tsp) Salt
7g (⅓) Red Chilli
600g (3 cups) Water, 12g (1 tbsp) Salt
[Preparation]
1. Making Fine Nut Soup: Clean the Pine Nuts. Grind them, after adding water, with a mixer for 2 minutes. Drain them.
2. Scrub the Cucumber with the Salt. Cut it into 4cm long and thick. Soak them into the Water for 10 minutes.
3. Divide the Red chilli. Remove the inside and cut them into 2cm long and 0.2cm wide.
[Recipe]
1. Boil the water for 9 minutes. Add the Fine Noodles. After a minute, add 100g (½) of Water. After a minute pour another 100g (½) of Water. Boil them for 30 seconds.
2. Clean the Fine Noodles. Drain them.
3. Season the Fine Nut Soup with the salt.
4. Serve the dish placing the cucumber and red chilli on top of it.
[Tips]
You can add sesame or nuts to make the Fine Nut Soup.