Discover Korean Food #13: Dr. Sook-Ja Yoon's "Samultang" (THE EAST Campaign in Association with The Institute of Traditional Korean Food)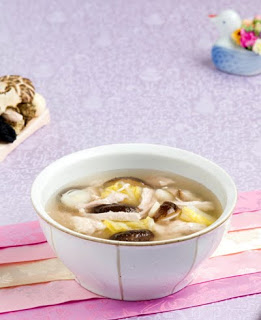 This soup is good for curing blood diseases. The danggiy (angelicae) root nourishes blood and controls menstruation. It is also good for the weak constitution caused by amenia, and effective to curing bruise, tumor and pain. Another ingredient, the sukjiwhang (rehmanniae), also nourishes blood and yin elements so that the symptoms of dizziness with the jaundice on the face and strong beats in the chest can be eased, and insomnia and irregular menstruation can be improved.
Material and Quantity
* chicken 150g, water 12 cups, sake 1 table spoon
* danggiy 3g, cheongung 3g, jakyak 3g, sukjiwhang 2g
* Korean cabbage 7 leaves, pyogo mushroom 4 each
* Welsh onion 1 root, garlic 3 cloves, salt 2 tea spoons
Preparations
1. Remove the fat and intestines of the chicken and rinse.
2. Add water and sake to the chicken, and boil over the medium heat. Pick out the chicken and tear it apart into 1cm thick and 3cm long pieces. Sift chicken soup with cotton cloth.
3. Put the danggiy, jakyak and sukjiwhang into chicken broth, and boil over the medium heat for 1 hour, sifting again.
4. Cut the cabbage into 2cm thick, 2cm wide and 3cm long pieces. Soak the pyogo mushroom in lukewarm water for 1 hour. Remove its stem and cut it into 2~4 pieces.
5. Thin-slice the garlic. Slice the Welsh onion diagonally.
6. Pour samultang broth into the pan and add the chicken, cabbage and pyogo mushroom broth, boiling for 10 minutes over the strong heat. Then add the Welsh onion and garlic, and also salt to taste, boiling further for 2 more minutes.
Tip
* For chicken broth, beef soup may be used.
* Since the color of samultang is dark, soysauce is not recommended to use.