Discover Korean Food 130: Dr. Sook-Ja Yoon's "Go Choo Geon"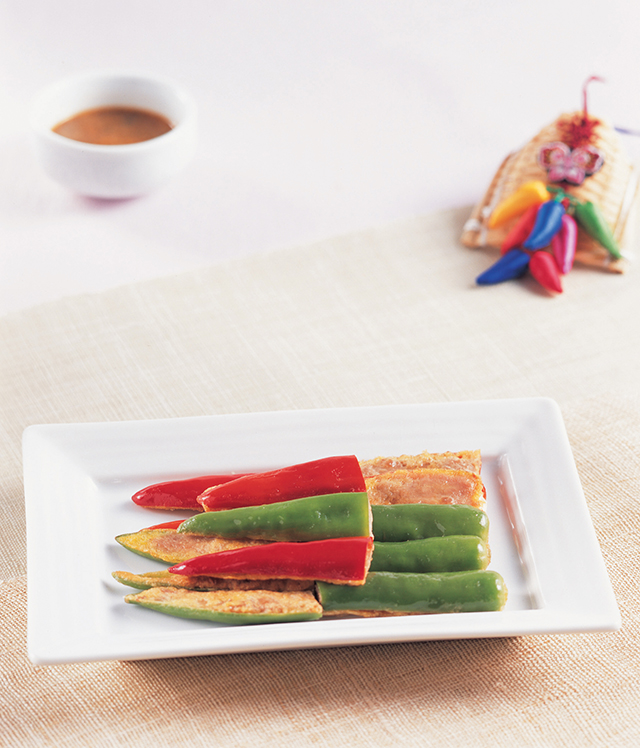 [Ingredients & Quantity]
60g (4) Green Chilli, 80g (4) Red Chili
100g Minced Beef, 30g Tofu
14g (2tbsp) Flour, 60g (1) Egg, 26g (2tbsp) Vegetable Oil
Seasoning Sauce: 3g (½tsp) Soy Sauce, 1g (¼tsp) Salt, 1g (¼ tsp) Sugar, 4.5g (1 tsp) Minced Spring Onion, 2.8g(½ tsp) Minced Garlic, 1g (½ tsp) Sesame Salt, 0.3g (½ tsp) Pepper Powder, 2g sesame oil.
Sour Soy Sauce: 18g (1tbsp) Soy Sauce, 15g (1tbsp) Vinegar, 15g (1tbsp) Water, 2g (1 tsp) Pine Nut Powder
[Preparation]
1. Divide the Green Chillies and Red Chillies. Clean them.
2. Clean the Beef. Gently crush the Tofu. Make the inside (1) by mixing them with the Seasoning Sauce.
[Recipe]
1. Place the inside (1) into the the Chillies.
2. Dress them with the flour (just inside). Pour the egg.
3. Fry the inside for 3 minutes at medium temperature. Fry the outside for 10 seconds.
4. Serve them with the Sour Soy Sauce.
[Tips]
* You can blanch the Chillies with salt water.