Discover Korean Food 132: Dr. Sook-Ja Yoon's "Root Vegetable Jorim"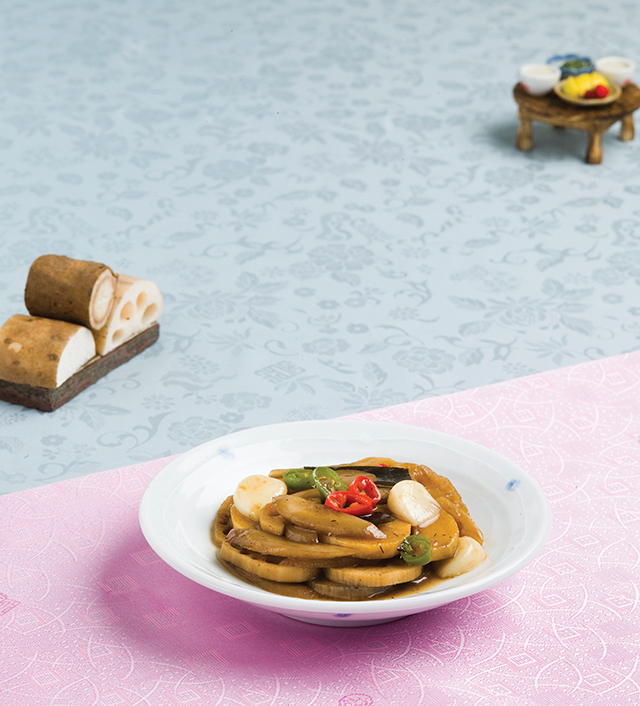 Root Vegetable Jorim is a boiled down dish mixed with Lotus Root, Dioscorea, Burdock, and seasoning Seasoning Sauce. Those ingredients include rich mineral; therefore, good for blood.
[Ingredients & Quantity]
200g Lotus Root, 100g Burdock, 100g Sea Tangle, 2cups Water, 5 Garlic, 1 Green Chilli, 1 Red Chilli
* Seasoning Sauce: 4tbsp Soy Sauce, 2tbsp Sugar, 1tbsp Refined Rice Wine, 1tbsp Sesame Oil, ⅛ tsp Sesame
[Recipe]
1. Clean the Lotus Root and Dioscorea. Peel them. Cut them into 0.7cm thick.
2. Clean the Burdock. Peel and cut it into 0.7cm thick.
3. Wipe the Sea Tangle. Cut it into 0.7cm thick.
4. Clean the Green Chilli and Red Chilli. Cut them into 0.5cm thick.
5. Boil the Lotus Root, Dioscore, Burdock, and Sea Tangle. Boil it down with the Soy Sauce. Add the Chillies and Honey. Boil it at high temperature.
6.Turn the heat off. Add the Sesame oil and Sesame.
[Tips]
* Thick Burdock tends to be tough.
* To get glossy, open the rid while boiling down.