Discover Korean Food 139: Dr. Sook-Ja Yoon's "Juksoon-Pyogo Busut-Bab"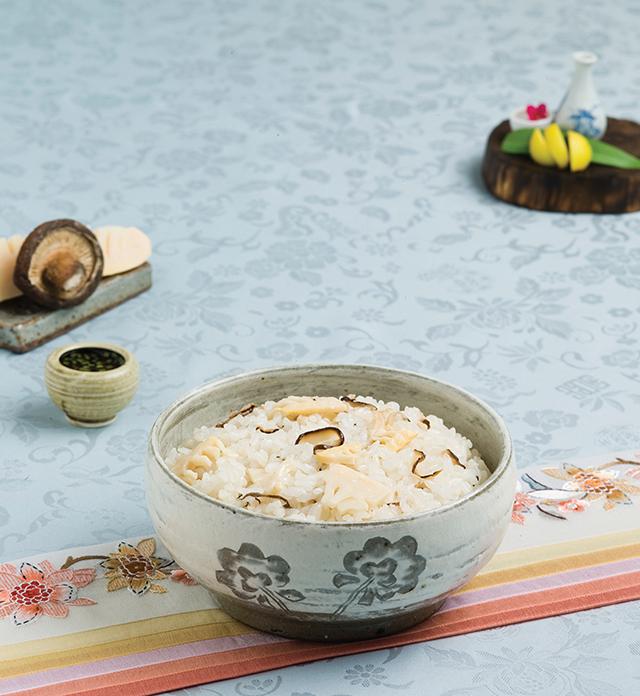 Juksoon-Pyogo Busut-Bab is a rice dish mixed with bamboo shoot and shiitake mushroom. The bamboo shoot tastes sweet. It reduces body temperature and good for skin.
[Ingredients & Quantity]
* 2 cups non-glutinous rice, 3 cups water
* 100g bamboo shoot, ½ tsp salt, 3 cups water
* 3g sea tangle, ½ cup water
* 3 shiitake mushroom
* Seasoning Sauce- 3 tbsp sea tangle water, 5 spring onion, 2 tbsp soy sauce, 1 tsp chill powder, ½ tsp minced garlic, 1 tsp refined rice wine, 1 tsp sugar, ⅛ tsp pepper powder
[Recipe]
1. Soak the non-glutinous rice into water for 30 minutes. drain it.
2. Soak the shiitake mushrooms for 1 hour. Remove the pillars. Cut them into 0.2cm long.
3. Cut the bamboo shoot into 4cm long, 0.2cm wide and thick. Blanch them with salt water for 2 minutes.
4. Boil the sea tangle for 5 minutes. Take out the sea tangle and use the water for seasoning sauce.
5. Boil the rice, bamboo shoots, and shiitake mushrooms for 4 minutes at high temperature; 3 minutes at medium temperature; 10 minutes at low temperature.
6. Serve them with the seasoning sauce.
[Tips]
* To remove the smell, you can blanch the bamboo shoot with the rice water.
* Wash the bamboo shoot before cooking.