Discover Korean Food 140: Dr. Sook-Ja Yoon's "Dduk-Galbi"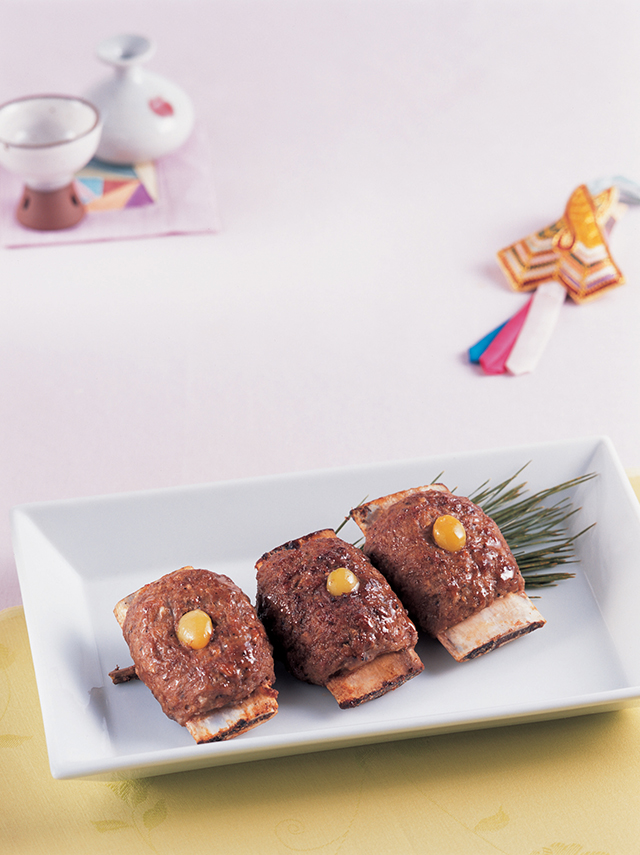 [Ingredients & Quantity]
* 700g beef ribs, 50g Pork belly
* 10g (2) shiitake mushroom, 50g Onion
* 14g (2) flour, 8g (4) Ginkgo, 26g (2 tbsp) Vegetable oil
* Seasoning Sauce: 27g (1½ tbsp) soy sauce, 2g (½ tsp) salt,12g (1 tbsp) sugar, 9g (2 tsp) minced spring onion, 5.5g (1 tsp) minced garlic, 0.1g pepper powder, 4g (1 tsp) sesame oil, 30g pear juice
[Preparation]
1. Cut the beef ribs into 7 cm lengths. Remove the fat. Sock them in water for 1 hour; change the water; repeat for 3 times. Remaove the ribs from the water and and chop them.
2. Chop the pork belly.
3. Soak the shiitake mushroom for 1 hour. mince them.
4. Cut the spring onion into 0.2cm wide and thick lengths.
5. Fan-fry the ginkgo for 2 minutes at medium temperature.
6. Make the Seasoning sauce.
[Recipe]
1. Fan-fry the spring onion for 2 minutes.
2. Mix the beef, pork, shiitake mushroom, and onion with the seasoning sauce.
3. Dress the beef ribs with the flour. Attach the beef meat (1.5cm thick) along with them.
4. Place the ginkgoes on top of them.
5. Grill them for 15 minutes at medium temperature; and then the other side for 10 minutes.
[Tips]
* Grill them at medium temperature to cook through.
* You can cook them in the oven at 230 degrees for 15 minutes.