Discover Korean Food 145: Dr. Sook-Ja Yoon's "Duduck Baekcho Moochim"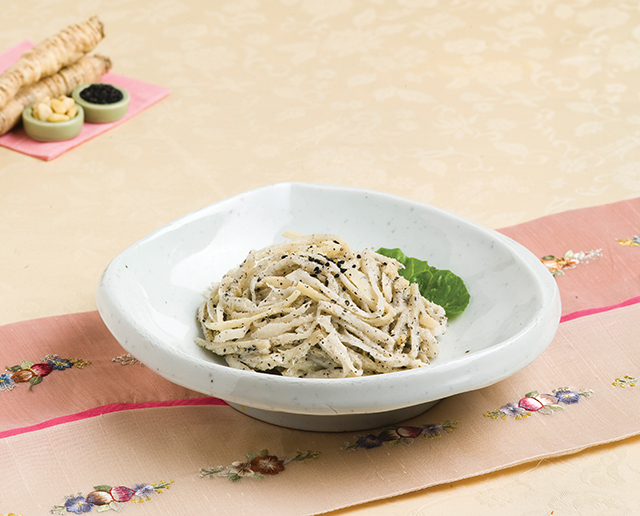 Duduck bekcho Moochim is a codonopsis lanceolata roots dish seasoned with Baekcho Sauce. The taste of Codonopsis lanceolata roots is bitter. It is good for a stomach and bronchial tube.
[Ingredients & Quantity]
* 400g Codonopsis lanceolata roots, 2½ tbsp salt
* Seasoning sauce – 50 fine nut, 3 tbsp baekcho, 1 tbsp black sesame, 1 tbsp vinegar
[Recipe]
1. Wash the codonopsis lanceolata roots; soak them into salt water; tear them into 0.5cm thick and 6cm long.
2. Make the seasoning sauce – Grind the fine nut, black sesame, vinegar.
3. Mix the codonopsis lanceolata roots with the baekcho seasoning sauce.
[Tips]
* Baekcho requires 100 days of preservation with 100 different types of herbs.