Discover Korean Food 146: Dr. Sook-Ja Yoon's "Dalrae Doen Jang Jji Gae"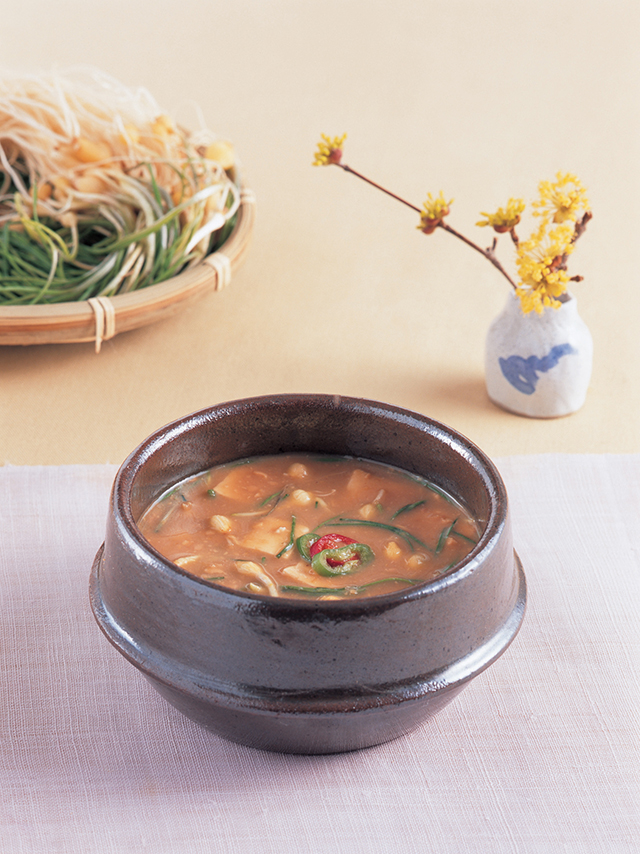 Dalrae Doen Jang Jji Gae is a soy bean paste soup added with a wild rocambole. A wild rocambole is used for appetiser in spring. And it is also good for insomnia.
[Ingredients & Quantity]
150g wild rocambole, 200g (½) bean curd, 30g (2) green chilli
20g (1) red chilli, 20g spring onion
900g (4½ cups) rice water, 30g anchovy
68g (4tbsp) Doen Jang, 1g (¼tsp) Salt
[Preparation]
1. Clean the wild rocambole. Cut them into 4cm long .
2. Wash the bean curd. Cut it into 1.5cm thick, wide and long.
3. Cut the red and green chillies into 0.1cm wide.
4. Trim the anchovy.
[Recipe]
1. Boil the anchovies in salt water for 5 minutes; 15 minutes at medium temperature; take out the anchovies.
2. Add the Doen Jang in the anchovy water; Boil for 7 minutes at medium temperature; add the ben curd and boil another 3 minutes.
3. Add the Chillies, wild rocambole, and spring onion. Season with salt. Boil for 2 minutes.
[Tips]
* For the better scent, do not boil the wild rocambole too long.
* Depending on the type of the Doen Jang, the amount of salt usage can be varied.
* you can add selfish.