Discover Korean Food 147: Dr. Sook-Ja Yoon's "Dduk San Juk"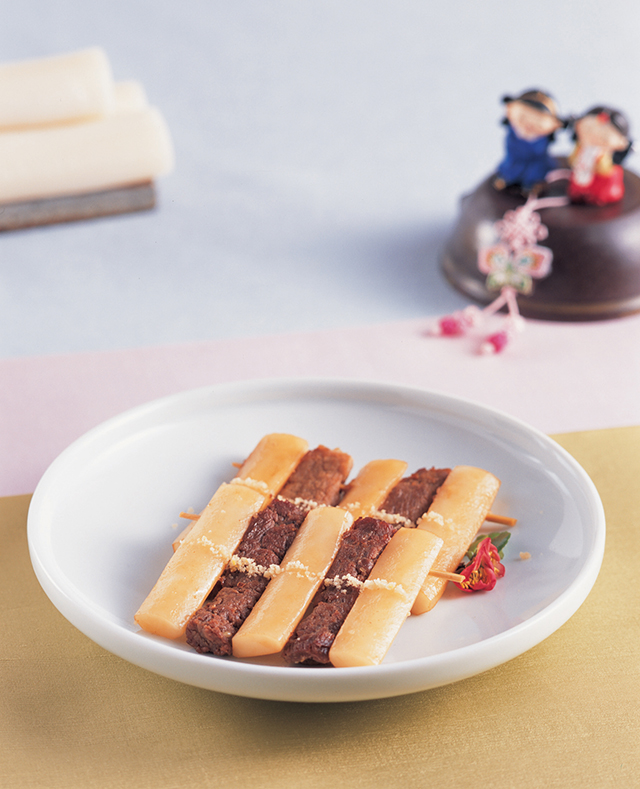 Dduk San Juk is a beef skewer dish with a rice cake. It is a popular dish on New Year's day in Koreaa.
[Ingredients & Quantity]
250g Rice cake
130g Beef
26g (2tbsp) Vegetable oil, 8 Skewer, 6g (1tbsp) Pine nut powder
Seasoning sauce1: 6g (1tsp) Soy sauce, 2g (½tsp) Sugar, 2.3g(½tsp) Minced spring onion, 1.4g (¼tsp) Minced garlic, 1g (½tsp) Sesame salt, 0.1g Pepper powder, 2g (½tsp) Sesame oil
Seasoning sauce2: 2g (⅓tsp) Soy sauce, 4g (1tsp) Sesame oil
Seasoning sauce3: 18g (1tbsp) Soy sauce, 15g (1tbsp) Vinegar, 15g (1tbsp) Water
[Preparation]
1. Cut the rice cake into 6cm lengths; divide them into 4 pieces; cut them into 1.2cm wide and trim the edges.
2. Cut the beef into 7cm long, 1.2cm wide, and 0.5cm thick. Marinade them with the seasoning sauce1.
3. Make the seasoning sauce 2 and seasoning sauce 3.
[Recipe]
1. Marinade the rice cake with the seasoning sauce 2.
2. Thread the beef and rice cake on to the skewers (make sure the rice cake places at the both ends)
3. Pan-fry them for 2 minutes at medium temperature; turn them around; pan-fry for another 1 minute at medium temperature.
4. Serve them with the pine nut powder and seasoning sauce3.
[Tips]
* You can thread vegetables on to the skewers.
* You can soak the rice cake into water if it is too hard.