Discover Korean Food 151: Dr. Sook-Ja Yoon's "Sambaek Cho Deodeok Jorim"
Sambaek Cho Deodeok Jorim is a Codonopsis lanceolata boiled down dish mixed with Saururus chinensis and seasoning sauce. Codonopsis lanceolata is good for lung and stomach but not recommended for people with very low temperature.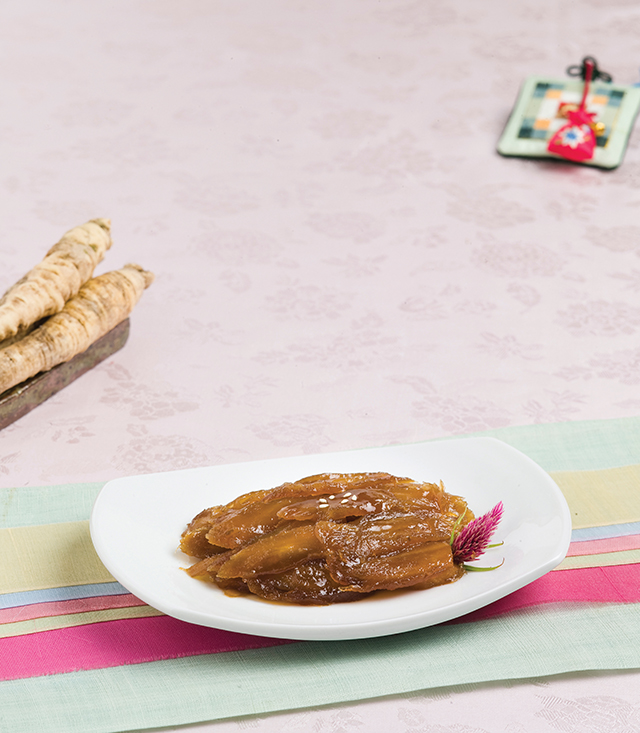 [Ingredients & Quantity]
300g Codonopsis lanceolata, 2cups water, 1/4tsp salt
5g Saururus chinensis, 1/2cup water
1/2tsp sesame oil
* Seasoning sauce – 4tbsp soy sauce, 2tbsp refined rice wine, 1tsp sugar, 1/2cup Saururus chinensis, 0.1g salt, 1/8tsp pepper powder, 1/2tsp sesame, 1tbsp starch syrup
[Recipe]
1. Peel the Codonopsis lanceolata and soak in water for 10 minutes.
2. Cut the Codonopsis lanceolata into 4cm long.
3. Boil the Saururus chinensis for 10 minutes; drain.
4. Boil down the Saururus chinensis water, seasoning sauce and water for 20 minutes.
5. Add the sesame oil when the soup is about 2tbsp full.
[TIP]
* Codonopsis lanceolata can be used for various dishes such as grill, pickle, honey syrup, etc.