Discover Korean Food #16: Dr. Sook-Ja Yoon's "Pan-fried Lanceolate with Green Tea" (Jeon or Pan-fried Dish)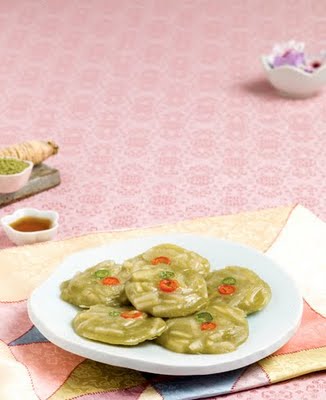 This pan-fried jeon is made with the dough mix of lanceolate root, green tea powder, and flour. Green tea is sweet and bitter as well, and has the cooling effect of the body heat. It helps smooth metabolism and recuperate one from fatigue; as such, it is good for hard working students and those who are easily exposed to heavy stresses.

Material and Quantity
* peeled lanceolate root 120g, salt 1 tea spoon, water 1 cup
* green pepper 1/2 each, red pepper 1/2 each
* flour 1 cup, green tea power 1 tea spoon, water 3/4 cup, salt 1/2 tea spoon
* vegetable oil 6 table spoons
* vinegar soysauce: soysauce 1 table spoon, vinegar 1 table spoon, water 1 table spoon
Preparations
1. Wash the lanceolate root, peel off its hard outer skin, soak in brine for 10 minutes to get rid of its bitter taste.
2. Remove the lanceolate from the brine, wipe off its moisture, and crush it with a roller by rolling. Then cut it into 0.3cm wide and 1cm long pieces.
3. Cut both green and red peppers into halves, respectively. Remove their seeds. Then cut them into 0.5cm x 0.5cm pieces.
4. Mix in flour, green tea power, lanceolate pieces, salt and water.
5. Spread oil on the hot pan, place one scoop of the mix after another separately. Then place the green and red pepper over each block piece, and wait until it is done.
Tip
* Do not use an excessive amount of green tea powder since it has the effect of lowering the body temperature.