Discover Korean Food 162: Dr. Sook-Ja Yoon's "Gamja Bab, Potato Rice"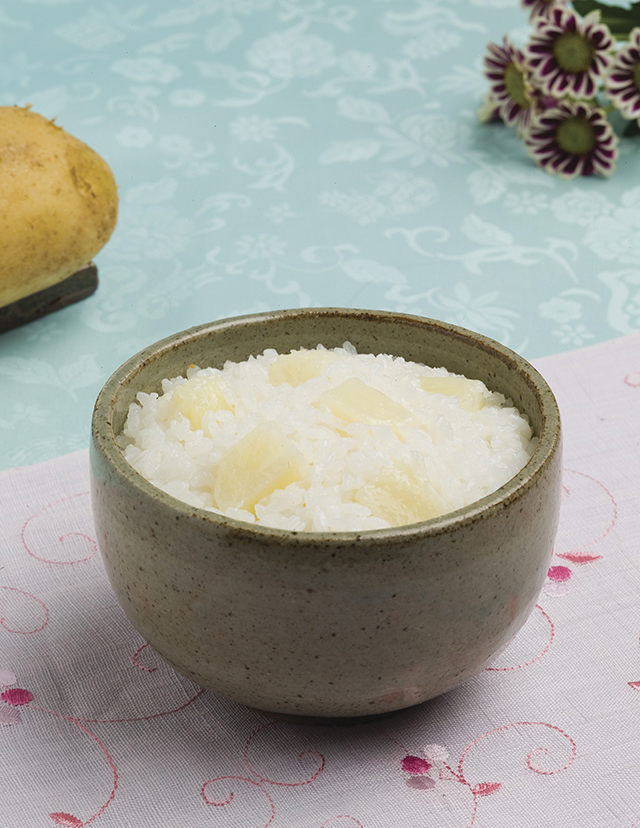 Gamja Bab is a nonglutinous rice dish mixed with potatoes. Potato is called 'Apple of the Field' as it contains 갸초 Amino acid, Iron, Kalium, Vitamin C. Also Steamed Potato has rich carbohydrate, but includes ½ calorie of steamed rice; therefore, it is good for a diet.
[Ingredients & Quantity]
360g (2 cups) Nonglutinous rice
300g (1½) Potato
500g (2½ cups) Water
[Preparation]
1. Wash the rice; soak in water for 30 minutes; drain.

2. Peel the potato; cut into 2cm wide, 1.5cm long, and 1.5cm thick; wash them.
[Recipe]
1. Boil the rice and potatoes for 4 minutes at high temperature; 3 minutes at medium temperature; steam for 10 minutes at low low temperature

2. Stir the rice; and place it in the bowl.
[Tips]
․ You can add seasoning soy sauce.
․ Potato is not going to be easily broken if you wash starch.