Discover Korean Food 163: Dr. Sook-Ja Yoon's "Doenjang Jjigae"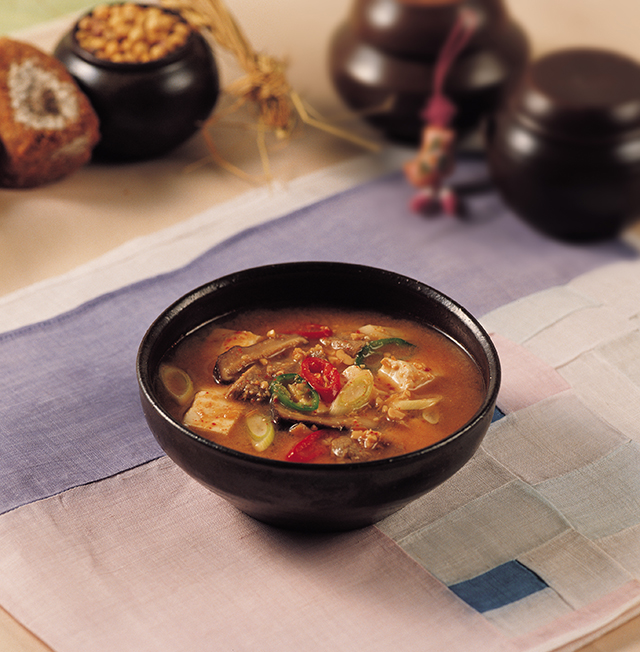 Doenjang Jjigae is a fermented soybean paste pot stew mixed with tofu, pumpkin, and soy sauce; traditionally has been served in an earthen bowl. Doenjang is a popular Korean fermented sauce made from soybeans; it helps get rid of smell of meats; and it also includes Lecithin which is good for preventing from geriatric diseases.
[Ingredients & Quantity]
90g sirloin, 15g (3) shiitake Mushroom
Seasoning Sauce: 9g (½tbsp) soy sauce, 4.5g (1tsp) minced spring onion, 2.8g (½tsp) minced garlic, 0.5g (¼tsp) sesame salt, 0.3g (⅛tsp) ground pepper, 4g (1tsp) sesame oil, 700g (3½cups) water from washing rice, 85g (5tbsp) fermented soybean paste, 250g (½) tofu, 2.2g (1tsp) red chilli powder, 15g (1) green chilli, 20g (1) red chilli, 20g spring onion
[Preparation]
1. Clean the beef; cut into 2.5cm wide and long; 0.2cm thick.
2. Soak the shiitake mushroom in water for 1 hour.
3. Cut the tofu into 2cm wide, 3cm long, and 1 cm thick.
4. Mix the beef and shiitake mushroom with the seasoning sauce.
5. Cut the chillies and spring onion into 2cm long and 0.3cm thick.
[Recipe]
1. Stir fry the beef and shiitake mushroom at medium temperature for 2 minutes; pour the water (from washing rice).
2. Add the fermented soybean paste; boil for 4 minutes at high temperature; 10 minutes at medium temperature
3. Add the tofu and red chilli powder; boil for 2 minutes. Add the chillies and spring onion; boil for 1 minute
[Tips]
* Do not boil tofu too long (for softness).
* You can use a young pumpkin in summer.