Discover Korean Food 164: Dr. Sook-Ja Yoon's "Sasam Jeon"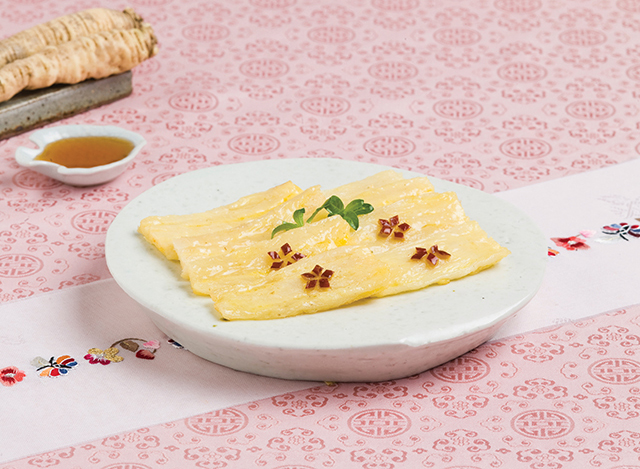 Sasam Jeon is a Codonopsis lanceolata Pancake. Codonopsis lanceolata is called Sasam and includes rich saponin like Ginseng and Balloon Flower. The colour of Codonopsis lanceolata is white. It is good for lung, kidney, and bowel.
[Ingredients & Quantity]
320g Codonopsis lanceolata, 4 cups water, 1 tbsp salt
3 tbsp flour, 1 egg, ½ cup vegetable oil
Seasoning sauce: ½ tsp salt, ¼ tsp white pepper powder, 1tsp sesame oil
Sour soy sauce: 1 tbsp soy sauce, 1tbsp vinegar, 1tbsp water
[Recipe]
Trim the Codonopsis lanceolata; wash; soak in salt water for 10 minutes; drain.
Cut the Codonopsis lanceolata in half. Make them flat; cut them in 6cm long; season with salt and white pepper powder; dress sesame oil on them.
Put the flour on the Codonopsis lanceolata; dress them with egg; fan-fry with vegetable oil
[Tips]
* You could put jujube for decoration.