Discover Korean Food 167: Dr. Sook-Ja Yoon's "Gool Bab, Oyster Rice"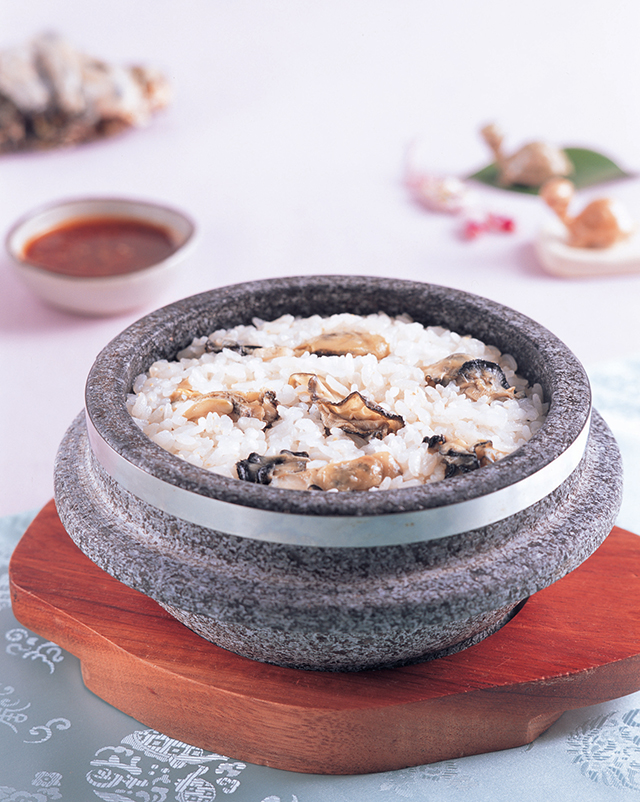 Gool Bab is a rice dish mixed with oyster and seasoning sauce. Oysters taste better during the winter. According to Dong-Guk-Yeoji-Seunglam, Korean people traditionally ate oysters.
[Ingredients & Quantity]
360g (2cups) nonglutinous rice, 600g (3cups) water
300g oyster, 물 900g (4½cups) water, 2g(½tbsp) salt
Seasoning sauce : 36g (2bsp) soy sauce, 7g (1bsp) chilly powder, 7g (1tbsp) minced spring onion, 5.5g (1tsp) minced garlic, 2g (1tsp) sesame salt, 0.3g (⅛tsp) pepper powder, 13g (1tbsp) sesame oil
[Preparation]
1. Wash the nonglutinous rice; soak in water for 30 minutes. Drain.
2. Wash the oysters with salty water; Drain for 5 minutes.
3. Make the seasoning sauce.
[Recipe]
1. Boil the nonglutinous rice for 4 minutes; boil for another 4 minutes at high temperature.
2. Boil the rice for 3 minutes at medium temperature; steam for 10 minutes at low temperature.
3. Stir the rice; serve with seasoning sauce.
[Tips]
* Do not add the oysters too early (to prevent the rice become black).
* Stir the rice gently not to break the oysters.