Discover Korean Food 168: Dr. Sook-Ja Yoon's "Yangbaechoo Gaetyim Kimchi"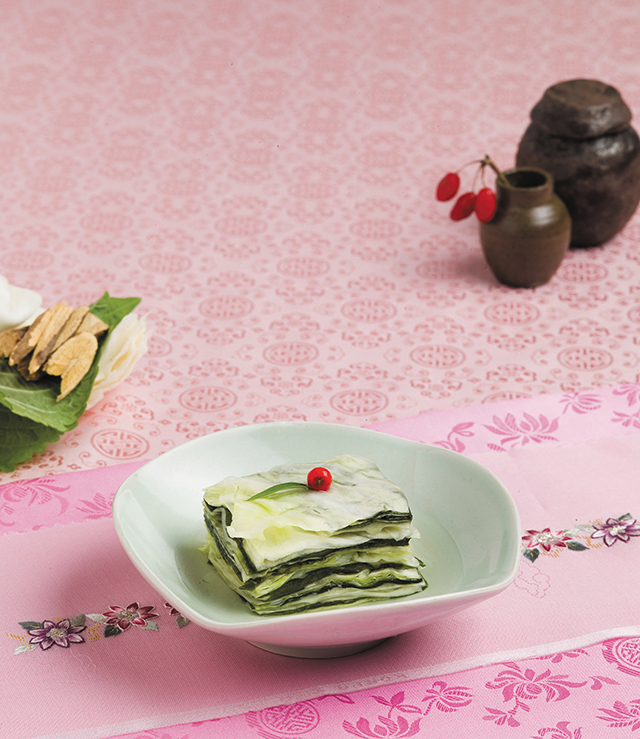 Yangbaechoo Gaetyim Kimchi is a kimchi dish mixed with cabbage, sesame leaf, and liquorice water. It has rich vitamins and minerals. Cabbages are good for eyes, ears, and joints.
[Ingredients & Quantity]
* 530g cabbage, 2tbsp salt, 6cups water
* 22 sesame leaf, 1tbsp salt, 2cups water
* liquorice water: 3cups water, 1 liquorice
* Seasoning sauce: 2cups liquorice water, 1/2cup sugar, 1tbsp salt, 2tbsp vinegar
[Recipe]
1. Boil the liquorice; boil for 15 minutes at medium temperature.
2. Soak the cabbage in salty water for 4 hours; drain.
3. Soak the sesame leaves in salty water for an hour; drain.
4. Make the Seasoning sauce
5. Place the cabbage leaves and the sesame leaves one side by another side; put them in the jar; add the seasoning sauce.
6. In 3 days, take them out; cut them to 4cm wide and long; serve.
[Tips]
* Put some weight on top when you soak the cabbages.