Discover Korean Food 169: Dr. Sook-Ja Yoon's "Maek Jeok"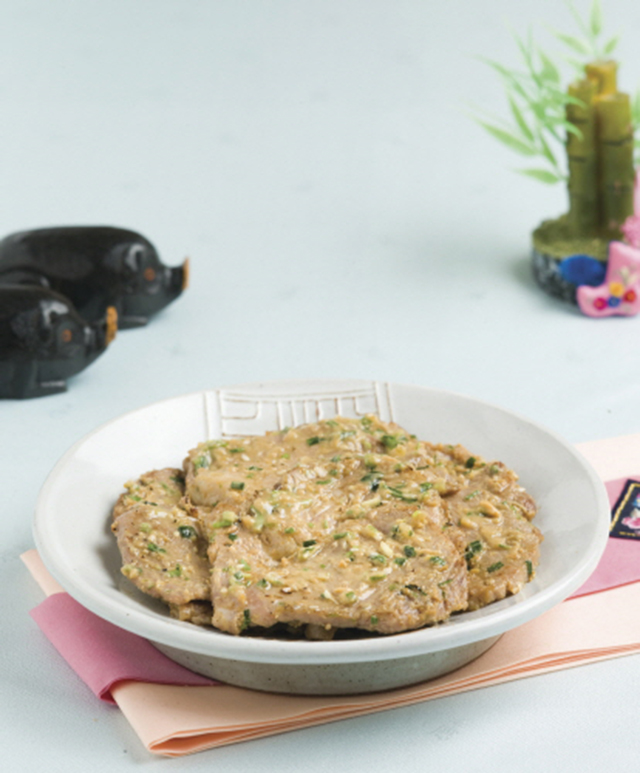 Maek Jeok is a pork grill dish marinated in Doenjang sauce. 'Maek' means Goguryeo and 'Maek Jeok' means Goguryeo people's grill dish. Traditionally, Maek Jeok was cooked by direct fire.
[Ingredients & Quantity]
800g Pork Shoulder, 20g wild chives, 10g leek
Seasning Sauce: 42.5g (2½tbsp) Doenjang, 2g (½tsp) salt, 6g (½tsp) sugar, 19g (1tbsp) honey, 30g (2tbsp) refined rice wine, 8g (½tbsp) ginger juice, 15g (1tbsp) onion juice, 16g (1tbsp) minced garlic, 2g (1tsp) sesame salt, 후춧가루 0.3g (⅛tsp) pepper powder, 6.5g (½tbsp) sesame oil
[Preparation]
1. Clean the pork; cut in 6cm wide, 7cm long, and 0.4cm thick.
2. Trim the wild chives; cut in 0.5cm long.
3. Clean the leek; cut into 0.5cm long lengths.
4. Make the seasoning sauce
[Recipe]
1. Marinade the pork with seasoning sauce, wild chives, and leek for 30 minutes.
2. Grill the pork both sides for 5 minutes each side.
[Tips]
* Pay extra attention to the heat, adjust to prevent overheating.
* You can use garlic chives instead of the leek.