Discover Korean Food 171: Dr. Sook-Ja Yoon's "GooGiJa-Memil-Gooksu"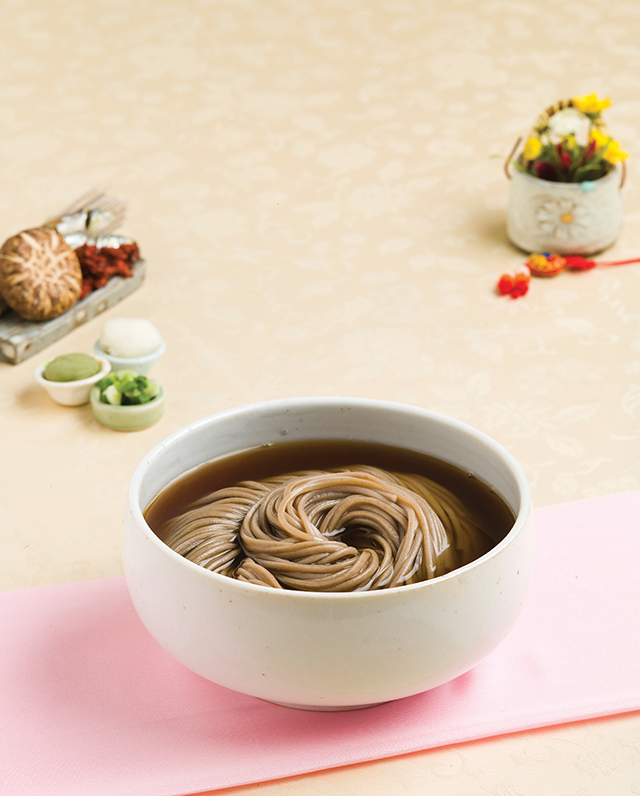 GooGiJa-Memil-Gooksu is a buckwheat noodle dish in Chinese matrimony vine soup. It has rich flavour and nutritions. It keeps the body temperature cool. it is also good for stomach, organs, diarrheas; especially good for the stamina during the Summer.
[Ingredients & Quantity]
400g buckwheat noodle, 100g radish, 20g spring onion, 2tsp wasabi
* Chinese matrimony vine soup (4 portions): 20g Chinese matrimony vine, 9 cups water, 4 shiitake mushroom, 20g anchovy, 15g Katsuobushi
* Noodle soup (4 portions): 7 cups Chinese matrimony vine soup, 6tbsp soy sauce, 2½ sugar, 2tbsp refined rice wine
[Recipe]
1. Trim the anchovy; Panfry for 1~2 minutes.
2. Boil the water with Chinese matrimony vine, shiitake mushroom, anchovy for 15 minutes; drain; add the Katsuobushi; leave for 5 minutes; drain.
3. Make the noodle soup by boiling the Chinese matrimony vine water with soy sauce, sugar, and refined rice wine; drain; keep in cool place.
4. Boil the buckwheat noodle; wash with cool water; drain.
5. Clean the radish; grind.
6. Chop the spring onion.
7. Serve the GooGiJa-Memil-Gooksu with radish juice, spring onion, and wasabi.
[Tips]
Don't boil the Katsuobushi too long as the taste becomes bitter.