Discover Korean Food 172: Dr. Sook-Ja Yoon's "NokCha-Insam-Bab"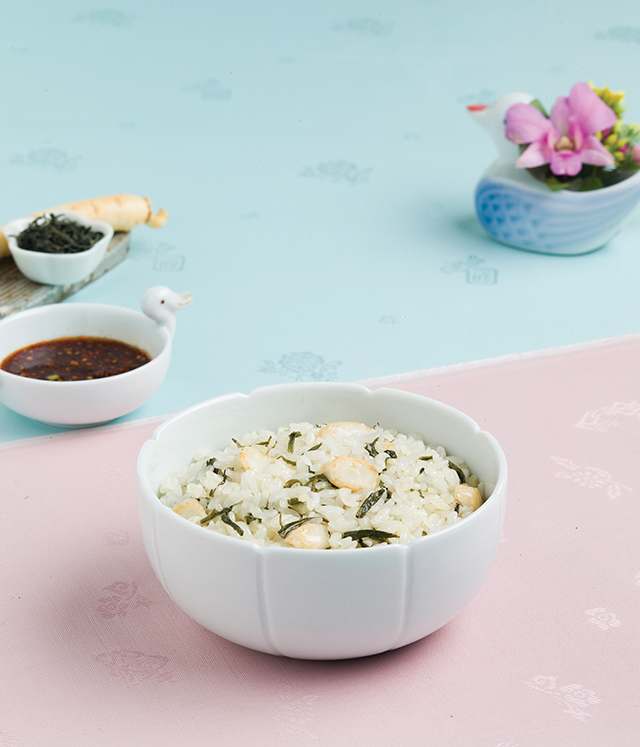 NokCha-Insam-Bab is a nonglutinous rice dish in Ginseng soup. Ginseng is good for lung, stomach, insomnia and stamina.
[Ingredients & Quantity]
1½ cups nonglutinous rice, 2 cups water, 12g green leaf, 1tsp perilla oil, 2 (20g) ginseng root
* Seasoning sauce: 5 spring onion, 2tbsp soy sauce, 3tbsp water, 1tsp chilli powder, ½ minced garlic, 1tsp refined rice wine, 1tsp sugar, 1/8tsp pepper powder
[Preparation]
1.Wash the nonglutinous rice; soak in water for 30 minutes; drain.
2.Boil the green leaves for 20 minutes.
[Recipe]
1. Panfry the green leaves with perilla oil for 2 minutes.
2. Wash the ginseng; cut in 1cm.
3. Boil the rice and ginseng with green water at high temperature; boil at medium temperature for 3 minutes; boil at low temperature for 10 minutes.
4. Stir the rice. Serve with the seasoning sauce.
[Tips]
* Don't squeeze the green leaves too much as it becomes tough.